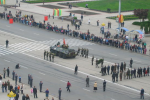 In the following lines I'm going to deal with a republic which you won't find in any political map of the world, definitely not on such a map which was printed in Chisinau. I'm talking about Pridnestrovian Moldovan Republic (hereinafter "PMR" or "Pridnestrovie"), which is called by Moldovan nationalists, who don't know their own history, "Transnistria", or rather, they name it indefinitely – "eastern provinces". It was founded by the Russians, Ukrainians, Moldovans and other 34 nationalities which had been living here for a long time. Councillors of all levels coming from "eastern provinces" couldn't bear the oppression on the part of Moldovan nationalists any longer. These assumed power in the process of USSR dissolution and in 1990, they declared own republic east of the river Dnester, which hasn't been recognized by anyone so far. I managed to write the following article thanks to the information provided by Pridnestrovian journalist and editor-in-chief of RIA DNESTR Roman Konoplev (1), whom a want say a word of thanks in this way.
Political situation
The President of the unrecognized republic is Igor Smirnov. He has been the first President in office since 1990. This leading person of Pridnestrovian politics keeps himself in power thanks to manipulated media. In Pridnestrovian society the President makes the impression: "If you don't elect me, it will be worse." Business circles cannot afford supporting own policy. There is the general opinion that Smirnov amounts just to a Kremlin puppet. However, a sober look at his twenty-year policy evokes the impression that rather the contrary is true because the population of the Russian Federation are forced to live under his despotic rule. There are no prospects of any change coming. Smirnov has already outlived many Russian politicians, he is in the best of health. His economic policy isn't among the best ones. From this point of view, Chisinau is grateful for Smirnov.
Two parties are represented in the Supreme Soviet of PMR (2). The first one is the Republican Socio-Patriotic Party, which has originated only recently by the merger of the Republican Party and the Patriotic Party. It is a centre-left party headed by Vladimir Rylyakov. Their task is to interfere with the potential of the oppositional Renewal, but they don't have money. Only state television works for them. The second political party is the already mentioned Renewal, which isn't completely anti-presidential. We may characterize it as a party with anti-presidential core led by Yevgeny Shevchuk (3).Political attitudes of other people in the party vary. These people decided to unite, because they thought that they would create an ideal wide-scope governmental party. When it came to the fight for power, all of them assumed that it would be without fight – suddenly, nobody wanted to fight. Another party is Proriv (Breakthrough), which is a socio-democratic party headed by Dimiri Soin (4). Proriv isn't financed sufficiently. There are also two communist parties, but they aren't supported widely because they are reputed to be financed by Moldovan communists. The presidential candidate from one of these parties, Nadezhda Bondarenko, obtained just something over 8 percent in the last presidential elections. Bondarenko's policy could be characterized as unwise because she wanted to organize a communist revolution in the country. Social democrat and former member of the Pridnestrovian Government Andrey Safonov, financed by the United Kingdom and the US according to backstage information, is out of the real fight for power because he is a pro-Moldovan politician and such politicians don't have any support in PMR (5).
Economic situation
Pridnestrovian economy depends to a large extent on Russian financial support. Approximately two thirds of the country's budget come from Russia. The cause is the high unemployment rate – hundreds thousands of unemployed people working in civil service who must be fed. One person in the production sphere finances four civil servants.
There are several large factories in the country which are the residue of the industry built in the region in the era of USSR. The joint-stock company Moldovan Metallurgical Works (6) (Rybnica) were privatized by Alisher Usmanov, Russian oligarch of Uzbek origin, Moldovan Thermal Power Plant (Dnestrovsk) is in the possession of Russian joint-stock company Inter RAO. Less than a half of Pridnestrovian economy is in Russian hands (in the hands of Russian entrepreneurs). The only company in Russian hands which is in good condition is Moldovan Metallurgical Works, the others suffer agonies. The reason is the fact that the region isn't interesting for concrete owners and therefore they don't make big investments. The owner of the banks in the country is Oleg Smirnov – President's son, who doesn't live in the country any longer because they had some row over election reform (7). The biggest player in the Pridnestrovian business is the company Sheriff, whose owners are former policemen (namely President Viktor Gushan and General Director: Ilya Kazmaly).
The biggest tax payer in the country is the mentioned company Sheriff, which does its business in many spheres, like telecommunications, fuels, textile, alcohol, they also run business in Ukraine and the European Union.
In Europe the people assume mistakenly that Sheriff has some political influence – this doesn't correspond to reality of course. On the other hand, economic power isn't vested with President Igor Smirnov. He may have only earned on privatization according to background information, nothing more. He has nothing in common with the company Sheriff. Rumours are circulating that Smirnov has considerably earned on the privatization of Moldovan Thermal Power Plant in Dnestrovsk.
Immediately after hearing of such a regionally important company like Sheriff, one thinks – don't they have any ties with the Kremlin? Sheriff looks like a company with multi-vector policy. This doesn't look like Sheriff…
The registration of Pridnestrovian enterprises in Chisinau, which has been under way since March 2006 (which Pridnestrovian leaders use to label as economic blockade (8)) had positive influence on the development of economy because enterprises achieved larger profits than were registration costs.
Nobody registers the unemployment rate in the country and nobody knows the exact figure. Those who lose job have no choice and have to leave for Ukraine, Russia or Europe in quest for it. It's a rule that in a family only one person works. This used to be so also during the Soviet era. Women worked here only rarely. Out of the original 700 thousand inhabitants, only 250 thousand or 300 thousand live in Pridnestrovie. You can calculate by yourselves what the unemployment rate is like.
The state provides the unemployment benefit solely during first two months. The benefit doesn't exceed USD 50. The unemployed are offered to work as street sweepers. A man working like this gets a benefit amounting to USD 70 per month. Nobody does it, it's held up to ridicule. Senior citizens are better off. Those having Russian passport reported permanent residence in Russia. There are strange cases when as many as 500 people are reported in one house. All of this for a single reason – to get higher pension.
Moldova (9) has similar problems. Around 1,500,000 inhabitants in total have left due to work. They mostly moved to European Union member countries, like Portugal, Spain, France, Italy, Germany or North America, i.e. the US or Canada. Also a wave of "gastarbeiters" flows to Russia. In Moldova and Pridnestrovie these people reported their residence, but in reality they are already citizens of other countries. If a man is left jobless, he or she has to go somewhere – everybody leaves with the exception of people who lined their pockets, as it were, through corruption and privatization.
Moldovans coming to Russia or some other European Union member state dub themselves "Pridnestrovians". The reason is logical: In Russia they do it because when they say that they're from PMR, Russians are sympathetic to them and treat them better. In Europe they do it because it opens them the way to asylum and residence permit (the cause is the odious Moldovan description of Pridnestrovie in foreign countries).
How one can escape from the hopeless situation? One cannot. So that things move forward, an impulse "from neighbourhood" must come – from Moldova. The Alliance for European Integration (hereinafter "the Alliance") is probably better for Moldova than Voronin's communists. Moldova has to reform its economy – if the situation in Moldovan economy changes for better, it will have direct favourable impact also on the Pridnestrovian one. Anyway, the Alliance has been currently building weak economic policy. They have communist budget and furthermore they make concessions to anyone because they are afraid of the communists reassuming power. Many people hoped that the Alliance would bring Moldova on the path to the European Union. Unfortunately, now they concentrate exclusively on the war on Russian language (10) and demagogy.
An interesting step was the appeal of the Pridnestrovian party in the United Control Commission to increase the number of Russian peacekeepers to 2,400 persons (11). However, there are no reasons why Moldova should attack "its eastern provinces". The step-up of the number of peacemakers is useless from this viewpoint. Nevertheless, there is an economic reason. In times when thousands of Russian soldiers were dislocated there, they got good wages in Russian rubbles and bought everything. The stimulation of demand may be the genuine reason for PMR requesting higher number of soldiers.
Possible partial solution would be the provision of cheap credits to the citizens on the part of local banks. Credit interests oscillate on the level of about 22 percent. If the prospective client doesn't have a real estate on which the bank may apply lien, credits aren't provided at all. For instance, if a client takes out a loan from the bank amounting to USD 20,000, the bank requests a deposit accounting for at least USD 50,000. Such credits are practically unavailable. The question arises what the local bank live on. It is simple. Russia provides gas. Local inhabitants pay money for it. Local banks gather them and a part of this amount is the profit of the bank from conducted operations.
We may quote four steps how to improve the economic situation in the region:
1)    solve the region status,
2)    democratization of government bodies,
3)    firm liberal policy,
4)    improve the region image.
Problem of official languages
Nowadays, system of three official languages functions in the country, namely Russian, Ukrainian and Moldovan (Romanian (12)) in Cyrillic alphabet. For several years, the neighbouring Ukraine has been dealing with the idea whether to recognize the status of the official language besides the Ukrainian also to Russian. At first sight, it may seem that Pridnestrovie is a brilliant example which Ukraine may follow. However, the things are a little bit different. The difference lies in the fact that the potential of practical usage of the Russian language in Ukraine is bigger than the one of Ukrainian and Romanian language in PMR. In practice it means that Ukrainian and Romanian are official languages exclusively "on paper" and in practice you can encounter it just in case of trilingual names of institutions. The local power doesn't bear all the blame. The problem is the practical usage and, last but not least, it is all about money. As for the practical usage of the language, the Romanian language in Cyrillic is practically a dead language, which is admitted also by the Moldovans living in PMR. Unfortunately, the Romanian language is just a part of the history. For example, solely one newspaper is published in Romanian and Ukrainian. It isn't interesting and nobody buys it. Apart from them, every day in television 15-minute news in Romanian language is broadcast. This isn't watched by anyone either. Moreover, according to normative the average number of pupils in a class must be 25 – 30 children. In Romanian and Ukrainian classes there are two, five or ten pupils. Wages of teachers must be equal. From this follows that the education of one child in a Ukrainian or Romanian class is two times more expensive than in a Russian one (13).
Freedom of the media
American non-government organization Freedom House (objectivity of which may be challenged) (14) labelled Pridnestrovie as non-free country in its report. Total result pertaining to Pridnestrovie is correct, but one cannot agree with the report in many aspects. For instance, in the report experts say that in Pridnestrovie people speaking Romanian don't participate in state administration and are subject to political oppression, which isn't true obviously. According to experts all the media in PMR are controlled by state power and don't criticize it. Religious freedoms are curtailed. The state controls just state television and newspapers, which nobody reads anyway.
As far as internet publications and newspapers are concerned, they can work freely even in the case that they criticize the regime. There is no censorship. All this for one simple reason – local apparatchiks consider internet nonsense. In the country around ten newspapers are published. In general, people prefer reading Moldovan newspapers in Russian language to local ones, e.g. Komsomol Truth in Moldova or Arguments and Facts. Two opposition newspapers are published, but few people read them, they are little spread. Generally, we may say that people read little print press in PMR. People simply mind wasting money for newspapers. Nonetheless, press may be regarded as free in PMR. But freedom in television doesn't exist in fact. We may say that the state channel is just an analogy to the television in German Democratic Republic or North Korean television. There is also a private channel TSV (Television of Free Choice) belonging to the opposition party Renewal. Only their people appear in it. The media in Pridnestrovie are far more free than the media in Russia.
As for the internet connection, solely ASDL connection for USD 23 with good speed exists here, but the core of population is comprised by senior citizens. Internetization advances rapidly, but the youth, the main internet user, isn't politicized. Internet access is larger than in some regions of Russia.
Solution to Moldovan-Pridnestrovian problem
Generally speaking, there isn't any complex strategy and detailed plan as regards the solution to the Pridnestrovian problem at all. The problem is that anybody in Moscow, Kyiv or Chisinau doesn't know what to do. Moldova tries to do something, for instance, the registration of Pridnestrovian agents since 2006 or now it tries to force local inhabitants to establish permanent residence in Moldova. The ongoing demarcation of the borders between Moldova and Ukraine may be connected with this. After finishing border demarcation, there is the threat that people, who haven't permanent residence in Moldova, won't be allowed to cross the border. This is actually the case now. That's why the Embassy of Ukraine appeals to its citizens permanently living in Pridnestrovian region to establish permanent residence in "eastern provinces" (15). Russian embassy hasn't undertaken any similar steps so far. Different attitude of Georgia and Moldova to its breakaway regions is to be seen here. While Dmitry Sanakoyev (head of the interim administration of the Tskhinvali region) has repeated several times that the inhabitants of breakaway regions are citizens of Georgia (although they gave up Georgian citizenship voluntarily), Moldova regards the inhabitants of the so-called "eastern provinces" as intruders illegally dwelling in its territory. Unfortunately, everybody has kept the hands off the conflict. If the Moldovans approached its solution in a little bit wiser way, this conflict could have been settled long time ago.
Russia should care about the stabilization of Pridnestrovie. If Moldova and Pridnestrovie were united in the form of a federation (or confederation) and the Russian language was guaranteed as the official language of the federation (or confederation) along with the Romanian language, they could head for European integration. If such a federative (or confederative) state was accepted to the EU, it could happen that Russian will become an official language of the EU, provided that Chisinau made such a statement. Pridnestrovie would be a Russian enclave in the European Union. In the Baltic region plentiful Russian-speaking minorities have been living. Their members could move to Pridnestrovie if they weren't satisfied with the life there from the viewpoint of ethnic and cultural oppression (16). However, the question remains how many Russians will stay in the country owing to the unwise policy pursued by Smirnov.
The question of the reunification of Moldova and Romania has been dealt with since the dissolution of the USSR. But it is more intensively deliberated on and speculated about since last year's elections when the Alliance assumed power in Moldova. It is a question whether they will unite legally. This option is possible only in case of European integration. Romania appears to be a strong regional player which uses the principle: one nation – two states. Although many representatives of the Alliance and many political elites in Romania regard themselves as unionists, it remains a question whether they will really act so in reality. Similar situation is in PMR. Everybody says there that he or she is a unionist with Russia, but nobody will unite with it in practice.
The European Union is practically toothless within the Moldovan-Pridnestrovian issue. Only Romania, whose ambitions have ideological character, can play its part here. For other players, this territory is practically uninteresting. Romania itself has major economic and social problems. On the other hand, it has big ambitions as to the expansion towards east, either on the level of the people or leaders (17). Russia has such ambitions neither on the level of leaders nor on the level of the people (pertaining to this region). The Romanian president is very popular in the country because he facilitates quick "passportization" of the country. Conditions for acquiring citizenship are simple – it is sufficient that one of the relatives was living in Bessarabia until 1940. Furthermore, Romania hands out passports to the inhabitants of Pridnestrovie as well as to many inhabitants of regions of Ukraine, like Odessa Oblast or Mykolaiv Oblast. Pridnestrovie and the mentioned regions are territories which were called during World War II "Transnistria" (see map (18)) and were annexed by Romania in 1941. In the ideological room of Moldova Romania relies on conflicting personalities with whom the radical nationalism aimed against the Slavs, for instance, Nicolae Dabiya, is linked (19).
Conclusion
The story about Pridnestrovie seems to be never-ending in current situation. Political elites in several states have to realize their mistakes. As far as Romania is concerned, it should realize that if it happens to swallow Moldova sometimes in the future (also territorially, not just culturally and on humane level), how the question of Pridnestrovie, which has never belonged to Great Romania (20), will be solved then. Perhaps Pridnestrovie will be an island in Romanian sea or it will be swallowed as well. Moldova should start its economy at last and not to fight against the "Slav enemy". It needn't pay off as it is still very dependent on Russia, which is its primary market. Pridnestrovie itself has a long road of economy liberalization and political system democratization (e.g. the already mentioned election reform) before it and, in the final analysis, it has to find a good "image maker" because after nearly twenty years of Moldovan demagogy, its reputation is rather tainted. It is necessary to open the eyes of Chisinau so that it comprehends there is no other way than double-language federation. "The orange regime" in Ukraine adopted an indifferent posture on the problem for a long time – it only backed Chisinau in its non-systemic steps. If the opposition assumed power in Ukraine, there is no prospect of change. Finally Russia: the Kremlin has to clarify the situation, i.e. whether they want to have second (this time official) Kaliningrad in Pridnestrovie and repeat the series of international scandals linked with the recognition of Abkhaz and South Ossetian independence, or they want to make a Russian enclave in the European Union of it.
Notes:
(1) Roman Konoplev is a famous Pridnestrovian journalist, editor-in-chief of RIA DNESTR http://dniester.ru/, whose main task is to inform of political and economic and cultural life in Pridnestrovie and neighbouring regions. He also has an official blog: http://konoplev.livejournal.com/and own site on Facebook: http://en-gb.facebook.com/rkonoplev.  
(2)  All parties functioning in the country are left or centre-left. There is no right or liberal-right party. The electorate isn't prepared for a party of such a character.
(3) Yevgeny Shevchuk – former chairperson of Supreme Soviet. He held this office until last year's July, but after a failed attempt to transform the presidential republic into a parliamentary one, he gave up this office voluntarily.
(4) Dimiri Soin is wanted by INTERPOL. He found himself among wanted persons because he had been burdensome for Moldovan communists. The fact that he found himself there was their initiative. In times when he worked for the Ministry of State Security at the beginning of the 1990s, the country was chockfull of criminals and he shot to death one drunk criminal who attacked his colleague. The Russian Army led by Alexander Lebed and Pridnestrovian regime were in conflict that time. Alexander Lebed later stirred up the problem in his television and afterwards this was used by Voronin's communists.
(5) Transdnestr: Opposition presidential contender Safonov insists protest voting was higher.http://regnum.ru/english/753957.html
(6) Moldovan Metallurgical Works produce 50 percent for stock at present.
(7) Oleg Smirnov pushed through the reform of electoral system after which the task of parties would have been stepped up in Pridnestrovian policy. Majority electoral system functions In Pridnestrovie. Oleg wanted to impose proportional system so that the people could really choose from among several parties. However, Igor Smirnov is categorically against.
(8) In case that a enterprise working in PMR wants to export its production beyond borders, it must be registered in Chisinau. Otherwise, neither Moldovan nor Ukrainian customs officers will let the production to cross the border. A small charge was linked with the registration. There are two types of registration: temporary (cheaper) and permanent (more expensive).
(9) If Moldova is mentioned further in this text, we think of "Moldova without Pridnestrovie".
(10) Moldavskiy zhurnalist, prizyvavshiy "pokonchit s russkoy informacionnoy okkupaciey" nagrazhdyon Ordenom pochyota. http://www.regnum.ru/news/1240700.html
(11) Pridnestrovie prodolzhaet dobivatsya uvelicheniya chislennosti rossiyskogo kontingenta mirotvorcev. http://www.nr2.ru/pmr/267461.html
(12) The problem consists in the very identification of the language. Moldovan language was "fabricated" by Soviet linguists after the occupation of Besarabia by the USSR in 1940. Following last year's elections, the Alliance of European Integration assumed power some representatives of which are in quest for the amendment to the 13th article of Constitution dealing with state language. Moldovan is quoted there, but there are efforts to change it into Romanian. In modern Moldova the issue of Moldovan is just the policy of the former president of the country, Voronin, it is some kind of the art of demagogy which nobody hasn't understood so far. Even in PMR Romanian is called Moldavian. It is an interesting situation where lots of Moldovans in Moldova don't want to speak of themselves as of Romanians, but all of them call their language Romanian. Practically, there are no differences between them – there are bigger differences between Russian in Moldova and Russian in Volgograd than between Moldovan and Romanian.
(13) V Pridnestrovie usilyat vnimanie k obrazovaniyu na ukrajinskom i moldavskom i perevedut na eti jazyki zakonodatelnuju bazu. http://www.nr2.ru/pmr/267714.html
(14) Doubts about the objectivity of the non-governmental organization Freedom House exist and it is currently exposed to severe criticism because it is financed from the budget of US Government. It was led by former member of US secret service for a long time who fought against the Soviet Union his whole life. Freedom House sochla Estoniyu "absolyutno svobodnoy stranoy".  http://www.km.ru/magazin/view.asp?id=E168E74550874F2286F06971C36740E0
(15) Pamiatka dlya gromadyan Ukrayiny, jaki prozhivajut u Pridnistrovskomu  regionu Respubliki Moldova. http://www.mfa.gov.ua/moldova/ru/4453.htm
(16) Glava Estonii priravnyal russkiy jazyk k okkupacii. http://www.utro.ru/articles/2008/02/26/719067.shtml
(17) Demarkaciya granicy – vzglyad iz Pridnestrovya. TSV. (Section important for us from 3:29 to 5:28). http://www.youtube.com/watch?v=p39in_Cvw_E&feature=player_embedded
(18) Romania 1941 – 1942. http://isurvived.org/Pictures_Isurvived/transnistria.gif
(19) Nicolae Dabiya – famous Moldovan journalist, editor-in-chief of the newspaper "Literature and Art". In the times of military conflict, he was an active agitator and spoke against mixed marriages (with Slavs) – classic nationalist. Now he and his equals managed to assume power.
(20) Except for a short period during World War II (see 18).