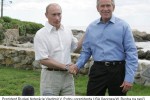 Antimissile shield planned to be deployed by the USA in Poland and Czech republic in protection against potential nuclear threat from "unfriendly" countries like Iran or North Korea undoubtedly became new stumbling-block between two greatest powers in the world. Russian President Vladimir Putin during visit of his Czech partner Vaclav Klaus in Moscow in April this year compared contruction of the system to American deployment of Pershing missiles in Europe during the so called Cold War.
Cold War rhetorics returned to bilateral relations between Washington and Moscow first time in the middle of nineties due to war in Chechnya, to Moscow´s disapproval with air-raids in former Yugoslavija or to enlargement of the NATO.
After terrorist attacks against the USA on September 11th 2001 and after Russia backed antiterrorist coalition, both countries did up to that time unusual concessions and there were minimum cases with different point of view on both sides. American President George W. Bush with terrorist attacks in the background declared that Russia accepted full and responsible role in the antiterrorist coalition and Putin "in return" described American campaign in Afganistan as appropriate. Except from fight against terrorism symbol of unprecedent close ties became the so called Moscow Treaty on reducing and limiting nuclear warheads from 2002. Block in mutual relations was caused by war in Iraq while Russia was part of the antiwar coalition. Later on, mutual accusations took place. After the end of war threats as terrorism and nuclear arms became to be up-to-date. The USA suspect Iran is trying to develop its own nuclear bomb. Security Council of the U.N., of which permanent members are both USA and Russia, approved since December 2006 two sanction packages against Iran by which the body continually increased pressure on Teheran. According to latest report of the International Atomic Energy Agency (IAEA) Iran has slowed down process of urane enrichment in the last days. The process is key in the nuclear programme within acquiring of fuel for nuclear reactors.
A dicussion is still going on in the USA whether to engage in the dialogue with Iran (as proposed by Foreign Secretary Condoleezza Rice) or to continue in isolating of the country as part of the "evil´s axis" (isolation is advocated by Vice President Dick Cheney).
The truth is that Iran remained after war in Iraq the only power in Persian Gulf. But Iran is not like Iraq. It is not an isolated regime, it showed willingness to lead a dialogue and it succumbed in the past to international pressure.
What does Russia about?
Russia aiming at acquiring status of superpower again began approx. From 1998 to widen contacts with old allies including Iran part as to avoid possible influence of the West and NATO and also as a way how to receive the necessary hard currency through trade with wars. The fact is that Russia accomplished  several lucrative contracts with Iran in the past. As the latest news it renewed talks on construction of nuclear power plant Bushahr, criticised by the West. Nuclear self-sufficiency is not the biggest stone which burdens the heart of the States. What is behind is an enorm economic dimension which is forgotten by the media. Iraq and Iran have altogether 20 percent of world up to now detected stockpiles of oil. Together with other two countries from Middle East (Saudi Arabia and Kuwait) they own 60 percent of world oil stocks. On the other hand there is a problem with the consumption. Only the USA itself consume 25 percent of the produced oil. Production does not suffice the demand and even if it did, there is not enough oil in the world to cover requirements of all at current prices. From this point of view Iran as a nearest source of oil in the region seems to be very interesting economic or rather strategic partner of let´s say big China. Regardless Iran declared that it will accept the single currency euro for oil sales instead of American dollars as it had been doing tens of years before In the past "amount" of dollars in the world, needed for oil trade, had been increasing at gradually higher oil prices and bigger oil consumption It is not secret that the USA are very successfully postponing bankruptcy of its economy by this way. The euro currently achieves record levels against US dollar and it seems that this trend is long-term sustainable.
Will the radar solve it ?
Coming back to widening of American antimissile protection against countries such as Iran, a question comes up. How can be a real purpose of Bush´s administration protection against their attack when it is publicly known that Iran does not have missiles able to attack such distant targets. This type of protection could USA use if the war conflict was joined by other countries on the side of Iran, most probably after Pentagon´s initiative. Does Washington expect that Russia or China would choose backing Iran ? Shai Feldman, director of Royal Center for Middle East Studies admits that if attack against Iran took place, it would be in last months of Bush´s term. He wants to use all other options before an attack, as it is clear from latest development of Russian-American bilateral relations, including Moscow´ influence. And it seems that Moscow does a lot. What did Washington offer to Moscow for support in Iranian issue? Not weakening of Russia´s influence in Central Asia? Russian proposal to cooperate in the antimissile protection would according to Putin stop the need of American equipment in Central Europe.
The fact that efforts with antimissile shield are partly one of Bush´s public relations tricks supports another thing. U.S. Congress controlled by Democrats can fully block financing of this expensive investment. The House of Representatives already from 2008 budget draft erased 40 billion USD for preparation works connected with deployment of the antimissile equipment in Central Europe. After all, US Defence Secretary has to provide evidence of high probability of operational efficiency of the interceptors. Bush as President has last possibility to push forward it by vetoing Congress´ proposal …
"Constructive debate with Russians" about antimissile topic goes on. Russian First Vice Premier Sergey Ivanov shortly after private summit of Presidents in Maine declared that if the USA accepted Russian proposals, Russia would not need to deploy new missiles in the European part of the country including region of Kaliningrad". Former KGB member is responsible for whole defence sector and many analysts regard him as one of the main candidates for future Russian President.
According to Kremlin if America continued contrary to Russian proposal with preparation of antimissile umbrella in Central Europe it would be the country´s big mistake. Putin´s proposal to Bush is allegedly an indication of big changes in the military forces deployment in the world. "It means both joint fight with threats and mutual access to information," assured undisclosed source of Kremlin.
According to vice-chairman of Foreign Committee of Russian State Duma Leonid Slutskiy Putin´s proposal will diminish tension in the world. Therefore, it will enable joint antimissile protection in a situation when threats from Iran or North Korea become real. But this i no more question of Bush´s PR, but international institutions headed by U.N. Security Council. It seems that Russia up to now did not betray American partnership (it supported all sanctions of the council against Iran). It is Washington´s go now how to access Moscow´s attitude and what to offer for it.
    
Forever Friends
One can state that personal relations between Russian President and its American colleague can be characterised as friendly and very open. It reinforces the fact that Putin visited Bush in his family residence in Maine what is a privilege which no other foreign politicians was awarded. The invitation was condemned by Russian opposition headed by Garry Kasparov who says that "everytime he gets such an invitation, he shows to the Russians that he is accepted in the world as a democrat". Putins "democracy" in Russia is doubted also by  Bush, but this is momentarily on the sidelines of his interests.
It is good to kill two birds with one stone. It is also is friend Putin who is a lame duck, his presidential term finishes even sooner, in March 2008. Putin can not be a candidate but it is most probable that influence and power in Russia will thus remain in his hands. Both Presidents (lame ducks) therefore decided that in current times they cannot afford to throw away neither Russian nor American card.
According to President of the Russian Institute for strategic analysis Alexander  Konovalov Russia and USA are ready to become partners. None of the Presidents wants to be the one remembered as the one who provoked the new Cold War. It rather seems that fears from new hurdle between the West and East is nurtured by the media and marginal political groups.
Russian strategists Konovalov further claims that Putin by offering joint use of Russian radars for American antimissile system actually acknowledged threat coming from Iran. On the other hand, if both countries came in case of planned antimissile shield in Central Europe to an agreement, for example, that the USA did not deploy the radars, Bush could face even the impeachment at home, because political system in USA is not the same as in Russia or Iran where Putin´s or Ahmadinejade´s decisions have the validity of law. And this could really hurt Republicans in the nearest elections.
Nevertheless, it was upmost important, for both Presidents, in a friendly private atmosphere, to confirm to the outside world good mutual relations. And it happened. Fears of the world regarding new Cold War have calmed down. Despite of this it seems that after comparing of energetic possibilities of both countries, the USA are pulling the shorter string. Let alone vague support of Western allies for eventual armed conflict.
Bush can untill the end of his term (next presidential elections are in January 2009) repair a lot but at the same time to destroy as well. Image of the outgoing first man of America in the least.