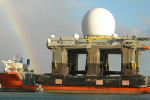 There is no doubt that the USA are most potentially and in the future endangered country of the world by some not very friendly countries. The USA themselves earmarked some countries as the "evil´s axle" or "naughty countries" naming Iran, Northern Korea but also Syria.
The USA by spreading of ideas and practise of freedom and democracy in the world, often use fire and sword, usually without approval of the U.N. or contrary to the international law. Mostly, the outcome are more dead innocent civilians, children and women, than terrorists also after using "intelligent" weapons.
Supposing thousands of Americans did not die, concerning the anti-missile protection one could say that the USA were not able f.e. on the 11th of September to protect even their own sky, but on the contrary they are offering still imperfect protection for part of Europe and the world.
Also there is no doubt that every country which feel itself endangered has undoubted right to undertake adequate measures for strengthening of its own security. Today it is not possible to solve accumulated problems of the world primarily with war, the only way is diplomacy and dialogue. That is why organisations such as the U.N., the EU, OSCE and others were founded. It is civilised, but also modern and perspective, of course including great extent of patience with some countries of the world.
Really the matter is not one or more radars on the European territory but enforcement of one´s will through complex system of anti-missile protection (PRO) imported exclusively from the USA. And this anti-missile system is an expression of efforts by the only super-power to have an absolute military dominion, mainly nuclear, within the so-called wholespectral prevalence. And the USA have it, so they can make decisions also without approval of the NATO, EU and U.N., although this case directly concerns Europe and the NATO. But why Poland and Czech republic now?
Are these two countries the weakest or strongest cell of the European Union and NATO? Is it the idea of breaking up the European integration? Is it not weakening of the security architecture of Europe? Is the continually integrated Europe not an obstacle by blocking with its balanced continental politics the current American exploatation of Middle and Central East as well as the isolation of Russia?
Though it is widely being informed that planned deployment of radar and anti-missiles is only a bilateral affair between the USA and Poland, respectively the Czech republic, according to conclusions of American specialists, in case of successful interception of intercontinental missile by anti-missile there can be achieved a partial diversion of strike on planned targets, but debris and undestroyed combat sub-warheads will fall on the populated parts of Europe. They will cause serious and wide contamination and intoxication /uranium, plutonium/ and casualties.
Therefore a question erases. Why should citizens of Europe, including Slovakia, be hostages of a situation when a decision leading to conflict, makes somebody else not us and its disaster consequences, far away from America, in any form will fall on our territory or heads?
This attitude among these countries /the USA, Czech republic and Poland/ can provoke and it is already provoking questions and disapproval mainly from Western members of the NATO, and also the EU. The status where two member countries of the NATO and the EU can without cooperation and approval of other members decide about such an issue with pan-European and pan-alliance importance or impact, can cause crisis and it reflects absence of effective mechanism for solving of this situation within the Alliance and EU.
If it is necessary to build anti-missile protection, it must be decided within system of collective protection within the EU, NATO, Russia and other cooperating countries.
The subject who has global interests ten thousands of kilometres from its own territory, must deploy forces and equipment on the territories which will allow it to control and operatively act in particular parts of the world. One of the most important systems, apart from military ones, is a system of different types and sorts of air defence radars destined to cover de facto the whole world.
Radar is only one of the sensors (ground, cosmic, marine and submarine), though important ones, within the system PRO (sensors, weapon systems and systems of commands, control and communication). From microview, on a tactic level, this sensor (ears and eyes) is able to seek, capture, follow and hand out information to the command centre of the anti-missile systems. Simultaneously, it is able from the north to the south within the distance up to 6 700 km to detect objects smaller than 15 centimetres. The reality is the fact that if up to now the USA could secure capturing of the missiles only from the Asian part of Russia, after forwarding of anti-missile base in Europe, they can capture the missiles also from the Volga and Ural regions of Russia.
Another "splinter" is fluctuating output of the radars and energetic source necessary for their operation. This output can be f.e. from 40 – 1000 MW, or more and source of energy 1- 5 MW? Is it necessary to have independent underground nuclear reactor or mobile container nucler power plant like in Greenland? And what about damages to people´s health, nature and other electronics including aeroplanes? Even Russian radar on the Gabalinskaya base, on the southern slopes of the Western Caucasus is not substantially different. Its activity has also negative impact on the environment and people, but this is also denied by the Russians.
If the USA and Russia mutually connected their "radar possibilities", they could together offer radar service also to the EU, NATO, Asia and other parts of the world and this way to shield them against potential and future missile dangers from Middle and Central East. It would happen without escalation of current mutual misunderstandings.
As far as 10 interceptors planned for Poland are concerned, the fact is that together with the radar they will not provide protection for Czech republic, Poland nor for Europe.
When ballistic missile enters the upper atmospheric layer, anti-missiles are not usable against it. Anti-missile could not release exoatmospheric kill vehicle (EKV). If it did not burn, it would not function in the atmosphere, because control motors would be ineffective and sensors blind.
Currently, program to deploy 40 anti-missiles in Alaska, 20 in California is being accomplished in the USA, there are negotiations going to deploy another 10 in Poland. According to final configuration there should be 125 anti-missiles in Alaska and 125 in Northern Dakota by 2011, what means 250 anti-missiles with undisclosed number of sub-warheads which could contain also nuclear load. So what is going on then?
Planned approach of American PRO in Europe stemms from relatively short time, the so called time and space window, in which enemy warhead must be hit. Therefore every kilometer is good enabling the anti-missile base to be nearer to estimated trajectory of the ballistic missile.
The most important is global and strategic standpoint to this American initiative, transferred to Europe with contemplated connection also in Asia (Caucasus, Japan). One can say that ownership of anti-missile system in American understanding is shifting hitherto stabilisation role of nuclear arms (warning) into qualitatively different level. Nuclear arms can be efficiently and conveniently be used only if agressor respectively defender disposes of sufficiently efficient "defend" system to destroy intercontinental missiles with warheads of the enemy. It is an extraordinary system which enables potential use of nuclear arms with probable great success in favour of agressor (defender). By accomplishing of such anti-missile system one could become potential and monopol nuclear agressor and defender of the world format at the same time. It is essential to add that efficient victory in nuclear war is possible by transferring or forwarding future battlefield of such war (nuclear) to such distance and far from own territory and to keep it effectively there! Will majority of European politicians finally understand this? And therefore one has to highly praise those European politicians who already warned of "sense" of forwarding American PRO to Europe without serious discussions with the EU and NATO countries but also with Russia, China and others.
If really existed "naughty" states and were an acute danger to America and the world, why not to logically deploy American anti-missile system in the Mediterranean region? It would be logic, correct and more efficient as well for the USA to internationalise their PRO program and use also political, scientific, technical cooperation respectively resources of friends and cooperating countries. Thus apart from the USA information about fired missiles are needed also by Russia, China, Japan, India, Pakistan, Turkey, Israel and others. Will the USA sign agreement on providing of these information also with the mentioned and other countries of the world?
Is "delayed" building of the PRO NATO (from 2004) system also not a mistake? And in addition the European Union so far has not decided whether it will ever build its own system. Is it possible that the NATO and the EU up to now did not identify the existing status in the Middle and Central East as a cause for security risks? The EU and NATO thereby enabled extension of unilateral and differentiated initiative of the USA also on the territory of Europe.
Also we could ask the USA, Russia, but also France, Great Britain and China whether they were not backnumbers by allowing other states f. e. India, Pakistan, Israel, Northern Korea to achieve nuclear independence and how is The Treaty on Nuclear Arms Non-Proliferation currently being implemented.
Simultaneously, we can say that by forwarding of PRO´s part to Europe the USA can "kill two birds with one stone". It is not excluded that officially and in fact the system will be directed against Iran and Northern Korea but also "undeliberately" against Russia and China.
In this context we can remind that there is going on a re-evaluation of the traditional doctrine of warning to pre-emption in the USA. A new concept is being assessed in which nuclear arms are included in the conventional offensive plans. Discussions about this are going on with regard to development of new category of nuclear arms for attacking of underground targets. As a whole, this shift to pre-emption is incompatible with the idea of the U.N. Charter on collective security system after World War II.
One can state that nuclear arms are long time not only a warning tool, but mainly a concentrated worldwide unit of force, resp. power including all hitherto features of central position in a modern civilisation.
The USA did not choose rational, efficient and cooperating way in planning to forward their anti-missile defence to Europe. The consequence was whole range of negative statements and reactions not only from Russia but also from some old (Western) members of the EU and NATO. An obtrusive question erases, why did the USA choose exactly such concept?
(Author is a former chief of the Slovak Army´s General Headquarters)