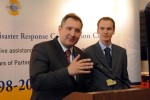 The military conflict in Georgia and its international implications have diverted attention away from other Russian diplomatic and political initiatives presented during this year's summer months. Observers concentrated particularly on the rivalry between Russia and the US when commenting the Russian-Georgian conflict. They analysed to a considerably lower extent events in the context of Russian-European relations and Russian notions of the shape of European security architecture. The fact remains that without knowing the given context, it's rather hard to give a true picture of the background of Caucasian "hot summer". The new President of the Russian Federation (RF) Dmitry Medvedev conducted his first visit to Europe with a long delay in comparison with the visits of China and Kazakhstan. From this we may conclude in which regions Russia sees its potential most important partners and allies. Nevertheless, it's no surprise that Medvedev's first visit to an EU member state led to Germany. Russia considers relations with this country strategic not only from the economic point of view, but also from the viewpoint of the realisation of its notions of future Europe arrangement.
The new arrangement of Europe according to Russia
Medvedev's one-day visit to Berlin on 5th June, 2008, confirmed this trend. Russian President used it for presenting his notions of future relations with Europe. The visit confirmed the continuity of RF's interest in intensifying economic collaboration with Germany. Medvedev imparted predominantly Russian interest in technology supplies with high degree of added value as well as the intention to meet the deadline for the finishing of two big energy projects of gas pipeline routes to Europe, namely Nord Stream and South Stream.
In his appearance before the representatives of political, entrepreneurial and diplomatic circles, Medvedev also presented the vision of internal policy emphasising that Russia was in quest for the same values like European countries in this field. He labelled human rights as the fundamental principle of internal policy, whereas in the area of socio-economic reforms he defined the development of middle class and the strengthening of legal state mechanisms, including the fight against corruption, as a priority. On the other hand he didn't mention the questions of the building of democratic institutions without which the guaranteeing of human rights wasn't conceivable.
Much more important, however, were his statements in terms of foreign policy. Medvedev confirmed his objections against the planned NATO enlargement and identified the issue of anti-missile shield as another thorny issue within relations between Russia and the North Atlantic Alliance. He warned that NATO enlargement would lead to the worsening of relations with Russia.
For the first time since office assumption, he identified the pillars of Russian foreign policy, which had been supposed to be based first and foremost on the dominant position of international law. This had to be binding for all states and leading powers in particular. It's to emerge from principles on which the UN Charter was based. He underscored the need of a multipolar world arrangement as well as the search for compromise solutions to international disputes.
The explicit refusal of the current arrangement of Europe, which reflected an ideology inherited from the past according to Medvedev, amounted to a new element in his appearance. According to the statement it doesn't pertain solely to NATO, which "was unable to acquire a new sense of its existence in any way", but also other structures like OSCE, which should embody the restored unity of European civilisation. However, according to Medvedev "it's not allowed to transform itself into a full region-wide structure". (1).
He also presented his own initiative for summoning a Europe-wide summit that would have adopted a legally binding agreement on European security and its task would have been the creation of a security framework "from Vancouver to Vladivostok" (2). New agreement should be based on the basis of the UN Charter and would be in fact superior to existent international organisations, i.e. the European Union (EU), the North Atlantic Treaty Organisation (NATO), Organisation for Security and Cooperation in Europe (OSCE), Collective Security Treaty Organisation (CSTO) etc. These organisations could become its participants and in Medvedev's opinion, participating states should take part in the summit as well as agreement ratification individually, i.e. beyond blocs and other groupings.
Bilateral Russian-German relations were the second aspect of the concept of Russian "European" policy presented by Medvedev. The Russian President highlighted the significance of reconciliation between both countries emphasising its geopolitical importance: "This factor is not less important for the peaceful future of Europe than, for instance, the reconciliation between France and Germany."
Russian intention to reformat the arrangement of Europe, or rather, at least Central Europe, in cooperation with Germany beyond existent institutional frameworks confirmed Medvedev saying: "European integration cannot and shouldn't halt on the coasts of the Baltic Sea or East European borders." However, when we consider the fact that the Russian President spoke of a "united Europe" or European integration, it remains to say that not a single time did he mention the EU. This indicates that Russia imagines its integration into Europe to be without restrictions emerging from the institutional arrangement of the EU as well as other contemporary European regional groupings. Moreover, it also thinks it will preserve its status of world power.
European politicians didn't react to Medvedev's proposal in any special way. Repeatedly, although with slight modifications, his concept was introduced by the Permanent Representative of Russia to NATO Dmitry Rogozin at NATO –Russia Council session on 28th July, 2008. Like Medvedev, he addressed his main objections to the functioning of NATO, which wasn't capable of guaranteeing security in Europe according to Russian representatives (3). He didn't rule out the possibility of involving states outside Europe in new European security system. Apart from Canada, he mentioned also Russian allies China and India.
Observers labelled Medvedev's and Rogozin's plan as a project of a "better OSCE variant". In NATO member states (4). and also in OSCE (5), however, the reaction was restrained. The project was understood as an effort to enfeeble the influence of the US and NATO (6) as well as the task of OSCE because Russia had been raising objections against its activities linked with observer missions during elections in CIS states. Moreover, if aside from NATO and the EU also CSTO and further regional organisations established in the former USSR that were under Russian command, were involved in the project, it would mean a factual recognition of the integration of this region into the sphere of Russian exclusive interest. In essence, Russian proposal reflects its respect for the existence of the European Union as a supranational integration structure. From EU's principles emerges that the foreign policy of EU members is coordinated in terms of Common Foreign and Security Policy and for this reason it's not possible that they take part in the proposed summit along with Russia exclusively in the form of national states without disputing thus the union's internal integrity. European states at the same time voiced objections that Medvedev's and Rogozin's plan wasn't concrete enough.
The global context of Russian "European" plan

The mentioned plan followed also another and considerably wider dimension which stands for Russian effort to challenge the top position of the US in the world including regions regarded as a dominant sphere of American influence. This applies primarily to Latin America where the "parallel act of Russian attempt" to isolate internationally the US unfolded in summer 2008.
In this region, Russia has relied for a long time on its traditional ally Cuba, Venezuela and after the 2006 parliamentary and presidential elections, which resulted in the return of the Sandins and their leader Daniel Ortega, also Nicaragua. Besides these countries, however, Russia has been forging links with other states of the region too. The Vice-President of Columbia Francisco Santos Calderón visited Moscow on 4th June, 2008. The subject matter of his negotiations with Medvedev was military and technological cooperation between both countries as well as fears of rather plentiful supply of Russian weapons to Venezuela, which is a traditional rival of Columbia (7).
Russia has been intensifying military and technological cooperation with Venezuela as well. Besides hitherto conducted transactions accounting for 4 billion dollars, an agreement on further weapon supplies amounting to more than 2 billion dollars was signed in Moscow during the visit of Venezuelan President Hugo Chávez on 22nd July, 2008. Tanks, heavy cargo planes Il-76 and helicopters Su are supposed to be a part of the supply (8). According to the daily Financial Times Venezuela has moved from 56th to 24th place in the world ranking of weapon importers in the course of last ten years and overall armament expenditures in Latin America have risen from 25 billion dollars in 2003 to 38 billion dollars in 2007. Venezuela plays an important role also in the expansion of Russian economic influence on the continent. This pertains primarily to the branch of oil extraction where Russian companies Gazprom, Lukoil and TNK BP plan to extend their activities in the Orinoco river strip (9).
A part of Russian geopolitical strategy was also the announced intention to deploy Russian strategic bomber base in Cuba. This stood for a punishment for the US in particular. As the development in South Caucasus proved later, it was simultaneously a part of the effort to divert attention away from the escalation of the Georgian conflict. Atmosphere connected with Russian bombers in Cuba was sharpened by news, brought by the daily Izvestija that had been scheduled for the eve of Chávez's visit to Moscow, that not only were Russian strategic bombers Tu-160 ("White Swan") and Tu-95MC ("Bear") technically able to reach Cuba, they had been even landing there. After Chief of Staff of the US Air Force Norton Schwarz had warned that similar step would have meant the crossing of "red line" (10), Russian Defence Ministry denied the information via its spokesperson Ilshat Baychurin (11).
Aside from the military and security arrangement, Russia has been questioning also the world's economic architecture. During G8 Summit in Japanese Toyako on 9th July, Medvedev suggested the organisation of the so-called grain summit participated by agriculture ministers from member states speaking concurrently up for worldwide increase in food production. The questions of price policy and price formation should have been a part of the summit too. Thus Russia acts like a defender of poor and developing countries which have been worst affected by the current "food crisis" (12).
Russia and the West after Georgian conflict
Although the European Union adopted a relatively moderate posture after the August conflict between Georgia and South Ossetia, the war resulted in the cessation of negotiations about a new partner agreement between the EU and Russia. The European Union also insists on preserving Georgian territorial integrity (13). Anyway, the conflict has shown that the EU, similarly to NATO and the US, has only limited tools for influencing the situation in South Caucasus. In spite of this, Russia avoids direct confrontation with the European Union. This holds true not only in the case of Georgia, where two missions of French President Nicolas Sarkozy led first of all to armistice declaration and subsequently to Russian recognition of the EU as the "peace guarantor" and its pledge to withdraw the troops from Georgian territory (14), but also as for the situation in which the EU rejected Russian measures aimed against Estonia and Poland. Russian reaction was similarly restrained in both cases.
Whereas within the relations with the EU, which in Russia's eyes doesn't represent a geopolitical and geostrategic factor or the closest rival in the region of the former USSR, Russia maintains a moderate, or rather, charitable; tone, relations with NATO have been developing differently.
Following the statements of NATO foreign affairs ministers, according to whom "relations with Russia cannot remain on the previous level" after the events in Georgia, the Permanent Representative of Russia to NATO Dmitry Rogozin was recalled for consultations to Moscow (15) and on 21st August, 2008, Russia announced an official revision of cooperation with the Alliance predominantly in the form of the freezing of military cooperation programs for the period of six months (16). The restrictions encompass the postponement of the visits of NATO General Staff representatives in Russia, the suspension of joint exercises and negotiations and consultations about the normative and legal basis of mutual military relations. Rogozin's document contains apart from other things also the prevention of the access of NATO vessels to Russian harbours, acceptances of NATO experts to Russian military schools and vice versa as well as the suspension of collaboration among scientists and experts in the field of rearguard security. The intention pursues also the suspension of Russian participation in the agreement on the status of military staff in terms of Partnership for Peace. Moreover, Russia has withdrawn from anti-terrorist naval operations which presuppose the control of ships suspected of supplying weapons of mass destruction. Nevertheless, it seems that cooperation in the area of defence technologies as well as political level dialogue will be preserved (17). Rogozin also threatened to halt collaboration with NATO if Georgia becomes an alliance member (18).
The Russian Ambassador in Afghanistan Zamir Kabulov implied that concrete interests of NATO could be damaged by the possibility of revising the existent agreements with western partners on the transit of non-military material for NATO mission via railway through Russian territory to Afghanistan. This transit was agreed on at the Russia – NATO Council session in Bucharest in April 2008 (19). Paradoxically, it is this threat which disputes the declared Russian fears of NATO enlargement. If this alliance and its enlargement posed such a threat for Russia, as declared by official propaganda, Moscow would hardly agree with such a form of cooperation, not to speak of the time when the question of alliance enlargement was opened. It means that the problem isn't NATO itself, but the fact that former Soviet republics, considered by Russia a part of its power sphere, are interested in the membership.
The first country of the European Union to be visited by a Russian top representative, namely the Foreign Affairs Minister Sergey Lavrov, after the Georgian conflict was Poland, i.e. a country which has taken an uncompromisingly critical stand on Russia. Furthermore, Poland didn't make any secret of the fact that the Caucasian conflict had expedited negotiations with the US about the deployment of US anti-missile shield in Redzikow nearby the town of Słupsk and the conclusion of particular agreement on 20th August, 2008 (20). Subsequently, notwithstanding the threats of General Nikolay Solovcov according to whom the objects of the anti-missile shield in Poland and the Czech Republic may have become targets of Russian missiles (21), the head of Russian diplomacy Sergey Lavrov hinted during his visit to Warsaw that Russia was willing to accept negotiations about the building of the means of trust and transparency (22). Nonetheless, on the eve of the visit he suggested in the widely read daily Gazeta Wyborcza that in return for the acceptance of the shield, Russia demanded the acceptance of its policy in Georgia, primarily as for the recognition of Abkhazia and South Ossetia, as well as Polish consent to the gas pipeline Nord Stream project (23).
Besides NATO, Russian security policy concentrates itself repeatedly on the region of Latin America, which is considered a domain of US influences. Military and technological cooperation with Venezuela will acquire fresh quality by conducting joint Russian-Venezuelan naval exercises near the coasts of this country by the end of 2008. A group of ships of the Pacific Ocean Fleet of the Russian Navy, including the heavy nuclear missile cruiser "Petr Veliky", large destroyer Admiral Chabonenko, rescue tugboat Nikolay Chikin and big sea oil tanker Ivan Bubnov, is supposed to join the exercises. According to the official statements of the representative of Russian Foreign Affairs Ministry Andrey Nesterenko and Venezuelan Admiral Salvatore Kammarat Bastidasa the planned exercises are due to be held as early as 10th – 14th November (24). Nesterenko also announced the temporary stationing of Russian anti-submarine aircrafts in Venezuela (25).
Situation in post-Soviet room
Although from the military point of view, Russia has won the war in Georgia, from the diplomatic viewpoint, we may hardly speak of success, even as for the closest allies from among former USSR countries. It was not until the termination of military operations that Russia gained the support of its military strike in South Caucasus on the side of Collective Security Treaty Organisation (CSTO) and other allies outside post-Soviet room, like Syria and Venezuela. Anyway, this support is motivated by concrete economic interests of Russian partners, or to be precise, the interest in Russian weapons supply.
Even the pro-Russian leaders of post-Soviet states perceive worriedly the growth of the power of Russia, which manifested by means of the strike against Georgia that it didn't consider the sovereignty of its neighbours to be an indisputable fact. Therefore in most of cases the reaction of former Soviet republics to the whole conflict was restrained. They took wait-and-see attitude. In contrast to Russia, for example, Belarus accepted Georgian decision to abandon the Commonwealth of Independent States (CIS) emotionlessly and without the reaction of official authorities in fact (26) . Also the most popular Belarusian television channel, the private ONT, which functions on commercial principle, however, is loyal to the Government and the contents of its news is controlled, strived to provide balanced reporting on the conflict, or rather, gave only careful indications of sympathy with Georgia (27). The absence of official reaction of Belarusian representatives during the first conflict days sparked the discontent of Russian Ambassador Aleksander Surikov, who challenged the loyalty of Belarus as the closest ally of the RF in an unusual way for a diplomat, namely at a press conference (28). Belarus backed Russian strike only in addition showing clearly that it expected a more forthcoming attitude during negotiations about earth gas supply prices (29).
Similar reactions were registered also in other former Soviet republics, which weren't hasty in expressing support of Russia. Nonetheless, even pro-Western Soviet republics didn't engage in the conflict very obligingly. Although Azerbaijan backed slightly Georgian territorial integrity, it at the same time showed more interest in the possibility of transferring its oil via routes leading across RF's territory to the harbour Novorossiysk. In Ukraine, "Russian card" was used in terms of innerpolitical battle by the oppositional Party of Regions and within the coalition dispute by Yulia Tymoshenkova's bloc. The result was that the Ukrainian Parliament was unable to adopt a resolution on the conflict. The silence of Moldova, which restricted also its participation in GUAM activities (Organisation for Democracy and Economic Development) in recent months, was motivated by fears of possible recognition of the independence of separatist Transnistrian region.
Although on 5th September, 2008, CSTO upheld Russian policy on South Caucasus and condemned Georgian aggression against South Ossetia, Russia hasn't achieved the recognition of Abkhazia and South Ossetia so far. The only country to recognise both provinces as independent states was Nicaragua (30). Russia had to accept this stance when Russian Prime Minister Vladimir Putin said during his visit in Uzbekistan that the recognition of both provinces "wasn't critical for Russia" (31) and President Medvedev stated subsequently at CSTO summit that Russian partners "would adopt a stance on the question of South Ossetian and Abkhaz independence independently" (32). Though Russia hasn't achieved any remarkable success in this field, Moscow can use "Ossetian and Abkhaz card" as a means of pressure on individual CIS states. Therefore we cannot rule out that some states of the former USSR will recognise both provinces in the future. However, Russia can hardly count on, for instance, the support of its most important partner from Shanghai Cooperation Organisation China, which dreads separatist tendencies in its border regions.
The West and Russia after the conflict in Georgia
Russian elites accepted positively the results of the extraordinary session of the European Council on 1st September 2008. Medvedev appreciated the "wise and realistic" position of the EU. Language, in which Russia communicated with the EU, differed considerably from that used in communication with NATO. In the case of the EU, Russian representatives emphasised the closeness of the positions of both sides but they referred to Saakashvili's regime as a regime of personal power. Moscow, however, demonstrated a harsh stance also on the EU when President Medvedev said that Russia didn't intend to retract its recognition of Abkhazia and South Ossetia under any circumstances. The moderate attitude of the EU was a signal for Moscow that the European Union was capable of reaching a compromise also as regards questions that polarise its members. The development beyond EU's eastern border contributes paradoxically to its consolidation since it has to face foreign-political challenges instead of dealing with itself, i.e. the questions of its own internal arrangement, which has limited its ability of action as well as the efficiency of its policy.
The positions of individual member states have been crystallized inside the EU. While Poland, Sweden, Baltic states except for Lithuania, the United Kingdom pushed through more energetic steps, the group of the so-called friendly pragmatics was opposing the isolation of Russia (33). Anyway, the demand for the withdrawal of Russian troops from Georgia and the support of this country's territorial integrity stand for a qualitative advancement, for example, in contrast to 2003 when the European Union labelled the dispute between Ukraine and Russia over the Tuzla Island in the Strait of Kerch as a bilateral affair of both countries.
The primary change of EU policy on Russia is the shift in language. For instance, French President Nicolas Sarkozy reminded Moscow that "Yalta belongs to the past and Russia has to respect the six-item peace plan in full extent" (34). Similarly scathing rhetoric of EU top representatives, French in particular, towards Russia is unusual. France at the same time is among the adherents of a more moderate approach. Although the EU had relatively few tools for influencing the situation in the conflict region, we may say that two Sarkozy's missions, by means of which he attained the ceasefire as well as the withdrawal of Russian troops from Georgia, were successful. From this point of view, the European policy of gradual steps has established itself.
Nonetheless, the attitude of European states to NATO enlargement has been changing. German Chancellor Angela Merkel declared the readiness to back the provision of Membership Action Plan for Georgia and Ukraine, although it is Germany and France that were the strongest opponents of this step during NATO Summit in Bucharest: "Doubtlessly, the Membership Action Plan must amount to the next stage. It doesn't amount to NATO membership yet, but it's definitely a way to it." Yet on 25th July during a meeting with Georgian President Mikheil Saakashvili, she stressed that Georgia had to settle its "frozen conflicts" (35). Following the EU – Ukraine Summit on 9th September, 2008, N. Sarkozy announced the conduction of an agreement on association between the EU and Ukraine. Although no concrete time horizons or an unequivocal future membership pledge have been mentioned in either case, the statements of German and French politicians are a signal of a change of mind.
The growing tension between Russia and the West has influenced also the approach of the EU to Belarus. One of the first signals of possible coming together, in terms of which the EU gave a signal for opening the "window of opportunity", was the meeting of Lithuanian Prime Minister Gedeminas Kirkilas with Belarusian Prime Minister Sergey Sidorsky on 2nd September, 2008, in Druskinnikai where Lithuanian side maintained that, in connection with parliamentary elections, Belarus had made a progress in the field of human rights by inviting OSCE observers and releasing prisoners of conscience (36). On 11th July, 2008, prior to the outbreak of the conflict in South Ossetia, Latvian Prime Minster Ivars Godmanis met covertly Sidorsky in the building of Latvian border patrol (37).
After the Georgian conflict, also the US started to change carefully its policy on Minsk, for instance, by lifting sanctions on two companies which are a part of Belarusian oil concern Belneftechim (38). The policy of "open windows" was also the topic of the meeting of the head of Polish diplomacy Radosław Sikorski and Belarusian Foreign Affairs Minister Sergey Martynov on 13th September, 2008. Bilateral interest in stepping up economic cooperation between the EU and Belarus was the subject matter of negotiations (39). Notwithstanding original expectations, however, Martynov wasn't invited to the negotiation of EU foreign affairs ministers on 15th September, 2008, which set the calling of plural parliamentary elections as a prerequisite for lifting sanctions on Belarusian officials and increasing assistance from the EU (40). Characteristic of contemporary development in Belarus is that the forging of links with the current regime is supported by both opposition leaders Aleksander Kozulin as well as Aleksander Milinkievich (41).
Events in Georgia have contributed also to the change of the character of Finnish debate about national security issues, predominantly in relation to NATO. According to the Finnish Foreign Affairs Minister Alexander Stubb the time has come to reassess present Finnish stance on NATO: "Nowadays, it makes good sense to deliberate on membership. The moment of decision hasn't come yet, but we have to be flexible and adapt our security policy promptly" (42). The conservative Stubb upholds NATO entry with a tacit support of Prime Minister Matti Vahnanen. Military circles and the media speak for NATO membership too. To the contrary, socio-democratic President Tarja Halonen, like approximately two thirds of citizens, has taken a negative stand (43).
Course new cold war?
The shift in the atmosphere of relations between Russia and the West has resulted in a modified formulation of the principles of Russian foreign policy. Although in his appearance on 31st August, 2008, Russian President Medvedev confirmed the validity of original principles, i.e. the primacy of fundamental principles of international law, which defines relations among civilised nations, the pushing through of a multipolar system of international relations and first of all the rejection of "such a world arrangement in which all decision adopts a single country …", he concurrently highlighted that for Russia "unconditional priority … is the protection of the life and dignity of our citizens wherever they are." A new moment within Russian rhetoric is the confirmation of Moscow's ambitions not to content itself solely with the position of a regional power: "Russia, like other states of the world, has regions in which there are its privileged interests. In these regions, there are states with whom we used to enjoy friendly and good neighbourly relations as well as historical and special ones. We will act in these regions very attentively and cultivate friendly links with these states – our close neighbours." Medvedev at the same time added that this statement didn't apply just to border regions (44).
Nevertheless, the main signal for changing Russian Federation's foreign policy was the decision of Kremlin to recognise the independence of Abkhazia and South Ossetia, which disputes the declared devotion to the principles of international law. It is likewise challenged by Russian refusal of the presence of the members of the prepared EU observer mission in Georgia in Abkhaz and South Ossetian territory (45). As for the future of both regions, the EU, NATO as well as the US haven't tools by means of which they could change the situation. Simultaneously, Russian representatives D. Medvedev and V. Putin manifested during the Georgian conflict that current legal President Mikheil Saakashvili wasn't a partner that they would have been willing to negotiate with (46).
Thus Russia demonstrated that it would manifest its policy of unilateralism in a more striking manner, at least in the post-Soviet room. Like in the past the US in the case of Iraq and Kosovo, also Russia acted beyond the framework of the UN Security Council in the Georgian conflict sabotaging literally its work in spite of the fact that Russian representatives were often referring to its documents. Although Moscow declared in the past that the support of Russian citizens, or rather, Russian speaking people abroad, was one of the key principles of its foreign policy, the recognition of the independence of two breakaway Georgian provinces promoted the principle of forging exterritorial institutional links with minorities abroad to RF's official policy. These had been under way tacitly until then, for instance, in the form of issuing Russian Federation's passports to the inhabitants of both separatist regions. Since most of EU and NATO member states back Kosovo's independence declaration, both groupings have just a limited room for argumentation in favour of Georgian territorial integrity on the base of the principles of international law. Therefore we cannot rule out the scenario, implied by the German political scientist Alexander Rahr, according to which after some time the EU will recognise unofficially the independence of Abkhazia and South Ossetia and continue to maintain links with them in a similar way like it uses to do with Thai-wan, Palestine and Northern Cyprus at present (47).
While prior to the declaration of Kosovo's independence theories of the possible recognition of Georgian separatist regions had been in a hypothetical level, after the Georgian conflict this threat became a fact. That's why it's necessary to count on higher probability of conducting further catastrophic scenarios in the future, for example, in the case of Russian support of Crimean separatism where a large number of local inhabitants with Russian passports may become the pretext for future Russian intervention in the Crimea. Right in the middle of August 2008, interpellation in Ukrainian Supreme Council referred to the issuance of Russian passports to the inhabitants of Sevastopol (48).
Nonetheless, in Russian politics as well as in public discussion, on unofficial level in particular, the question of Russia's relation to Europe has been reopened. Also in the official media voices declining the model of western democracy as universal criterion applicable to Russian standards are to be heard still stronger. "To put it metaphorically "Bush's legs" (the nickname of chicken legs imported from the US) have damaged the nation's health thoroughly. Domestic high-quality chicken is highly desirable," says the writer Yuriy Plakov in the governmental daily Rossijskaja gazeta calling for "nationally orientated democracy" (49).
In Russia, there's a discussion on the necessity of World Trade Organisation (WTO) membership under way. Opponents of this step argue by fears of losing economic sovereignty and tools for the support of economic growth (50). A part of establishment, which acted in terms of the faction Rodina in Russian State Duma during the previous election term, subscribes to this opinion as well.
President Medvedev has implied that Russia will diversify its energy routes as well as oil and earth consumer markets orientating itself concurrently towards collaboration with Asian states: "Without diversifying the country's development towards the East, Russian economy has no future." Though he has highlighted that energy cooperation with Asia won't harm Europe, the fact remains that Europe will be more or less forced to exert more intensive effort to diversify the supplies of oil and earth gas against its will (51).
Thus the conflict in Georgia didn't mean a fundamental change in Russian foreign policy. An essential difference consists in the fact that Moscow formulates its stances and priorities in a more open way and conducts officially some of its steps which used to be either hinted at or realised tacitly by the Putin administration in the past.
Medvedev's and Rogozin's initiative from June – July 2008 as well as the war in Georgia had a common denominator. It was the effort to curb US influence. While in Europe, Russia tries to meet this objective via economy and diplomatic negotiations, in Caucasus, it strived to achieve the same objective by means of a military strike.
Medvedev's plan of Europe-wide summit and a new agreement on European security has practically fallen on deaf ears in Europe. Following the war in Georgia, there's just a slight chance that it will be put back on negotiation tables for the foreseeable future. Nevertheless, after a long period, this is the first Russian initiative pertaining to the arrangement of Europe which, despite not being concrete, implies the fundamental principles of Russian "European" policy among which is the pursuit of enfeebling European integration structures as well as US influence. This project is orientated towards future and may obtain greater support. This will depend on the results of this year's US presidential elections.
The Georgian conflict contributed to the chilling of atmosphere within relations between Russia and the West. Actually, it hasn't born any fundamental breakthrough either, it has only accelerated ongoing processes. Although Saakashvili remains in Russia's eyes enemy No. 1, the course of Lavrov's visit to Warsaw along with conciliatory gestures with regard to the installation of US anti-missile shield components in Poland attests to the fact that Moscow has been surprised at the unified stance of the EU and NATO and was forced to temper original tone. Notwithstanding this, the current level of relations, which have been probably the worst since Mikhail Gorbachev assumed the chair of Soviet communists in 1985, raises questions what the character of possible new cold war will be like.
Oil conjuncture in Russia connected with the global expansion of Russian capital evokes analogies with the situation in the 1980's. Even if it's conceivable to speak of a new cold war, the situation has changed radically in comparison with the 1980's. Contemporary Russian establishment has the support of the population. In contrast to the past, Russia enters international confrontation as an economically and politically stabilised subject. Nonetheless, European dependency on energy sources from Russia has grown. Like in the 1980's, Russia strives to gain support particularly among those states which have challenged the dominant status of the West among Third World countries. Medvedev's proposals at G8 summit attest to this. Anyway, it's not possible to speak of ideological rivalry at present. Russia hasn't any global character ideology. To the contrary, it at least accepts formally the fundamental values of western civilisation and doesn't even offer any system alternative to liberal capitalism in the area of economy. In terms of its global strategy, it works actively with economic tools of influence.
Although there's a negative stance on several aspects of US policy within Russian society, a substantial part of the population doesn't perceive this country negatively. In July 2008, as many as 47 per cent of the Russians showed liking for the US in general, although solely 2 per cent took a very favourable stand on this country. Considerably higher were the sympathies with the US among the youth aged from 18 to 24. While 4 per cent of respondents dubbed their attitude very good, 55 per cent labelled it as more or less positive. Negative stance on the US was adopted by 29 per cent of respondents of this age. In the case of senior citizens it was 38 per cent (52).
A significant difference in comparison with the 1980's, however, is the character of geopolitical dividing lines. Like during the Cold War, confrontation between Russia and the US has acquired a dispersion character. I contrast to that period, region surrounded by the Baltic, Black and Caspian Sea has become the main focus of international tension instead of the former border between the Soviet bloc and the West. Russian recognition of Abkhaz and South Ossetian independence has petrified the imaginary dividing line of global confrontation on the borders between Russia and Georgia because the possible post-Saakashvili cabinet in Tbilisi is unlikely to reconcile itself with the loss of both territories for the foreseeable future, even if it was more attuned to Russia's interests. Security vacuum, in which the states have found themselves today, lying between the eastern border of NATO, or rather, the EU and Russian Federation's territory causes that the geopolitical dividing line needn't necessarily overlap, and it even doesn't overlap in some cases, with internationally acknowledged state borders, however, it has been stretching across the territories of states like Ukraine and Georgia.
The Middle East and Latin America seem to be shaping up as side focuses of global confrontation. While during the Cold War in the 20th century, the confrontation acquired an armed character on the geopolitical line, latest development in the Caucasus indicates the threat of possible massive violent conflict, or rather, the accumulation of smaller conflicts of local character unless the given region is included in the system of multilateral security agreements and remains in present security vacuum.
Notes:
(1) Medvedev, Dmitrij: Vystuplenije na vstreče s predstaviteliami političeskich, parlamentskich i obščestvennych krugov Germanii. Berlin, 5 ijunia 2008 g. Prezident Rossii. Oficiaľnyj sajt http://www.kremlin.ru
(2) Medvedev otdelil Evropu ot Ameriki. Novosti KM.ru, 6. 6. 2008.
(3). Rogozin: Rossijskij plan bezopasnosti v Evrope pomožet NATO. Novosti Treli.ru, 29. 7. 2008.
(4) Runner, Philippa: NATO suspicious of Russian security pact idea. EU Observer, 29. 7. 20
(5) Russia's security proposal doesn't threaten NATO, official says. International Herald Tribune, 29. 7. 2008.
(6) Zapad boitsia čitať plan Rossii. Novosti KM.ru, 28. 7. 2008.
(7) Kolumbija zapisalas' na pereemnika. Kommersant, 4. 6. 2008.
(8) Serwetnyk, Tatiana: Sojusz Chaveza z Kremlem. Rzeczpospolita, 23. 7. 2008.
(9) Mander, Benedict: Russia and Venezuela forge ties and poke a finger in US eye. Financial Times, 23. 7. 2008.
(10) Ostrzeżenie dla Rosji. Rzeczpospolita, 23. 7. 2008
(11) Rakiety międzykontynentalne rosyjską odpowiedzią na tarczę? PAP, 24. 7. 2008.
(12 Russia wins support for G8 grain summit. Reuters, 9. 7. 2008.
(13) Extraordinary European Council, Brussels, 1 September 2008. Presidency Conclusions. Brussels, Council of European Union 2008.
http://www.consilium.europa.eu/ueDocs/cms_Data/docs/pressData/en/ec/102545.pdf
(14) Rusko prisľúbilo stiahnuť sa z Gruzínska. Euractiv.sk, 9. 9. 2008.
(15) Rossija otozvala svoego predstavitelia pri NATO. Izvestija.ru, 20. 8. 2008.
(16) Rogozin postavil "virusnyj" diagnoz NATO. Izvestija.ru, 26. 8. 2008.
(17) Beluza, Aleksandra: Gde my i gde NATO. Izvestija.ru, 27. 8. 2008.
(18) Rusko NATO sočla ugrozy Rogozina banaľnymi spekuľacijami. Izvestija, 9. 9. 2008.
(19) Zabrodina, Ekaterina – Fokina, Ksenija: Prikroet li Moskva "afganskij tranzit"? Izvestija.ru, 27. 8. 2008.
(20) Umowa o tarczy podpisana. Dziennik, 20. 8. 2008.
(21) Rosja grozi nam tuż przed wizytą Ławrowa. Dziennik, 10. 9. 2008.
(22) Sikorski: potwierdzilem gotowość do rozmowy o "środkach budowy zaufania" ws. tarczy. PAP, 11. 9. 2008.
(23) Ławrow, Siergiej: Bierzcie przykład z Rosji i uznajcie realia. Gazeta Wyborcza, 10. 9. 2008.
(24) SŠA: Rossijskije korabli edva li doplynut do Venesuely. Grani.ru, 9. 9. 2008.
(25) Vo Venezuele umiestnia ruské protiponorkové lietadlá. SITA, 8. 9. 2008.
(26) Čto povlečet za soboj vychod Gruzii iz SNG?  Naviny.by, 12. 8. 2008.
(27) Vladimir Rovdo: "Sobytia v Južnoj Osetii mogut v buduščem serjezno auknuťsja i v Belarusi…" Narodnaja Voľa, Belaruskij Partizan, 12. 8. 2008.
http://www.belaruspartisan.org/bp-forte/?page=100&backPage=13&news=26991&newsPage=0
(28) Fedoseev, Roman: Častnyj slučaj predateľstva. Vzgliad.ru, 12. 8. 2008.
(29) Lukašenko drognul. Charter 97.org, 13. 8. 2008; Belorusskij MID opravdyvaetsia pered Rossijej. Charter 97.org, 13. 8. 2008.
(30) Poradzieccy sojusznicy Rosji nie uznają niepodległości Abchazów oraz Osetyjczyków. Gazeta Wyborcza, 6. 9. 2008.
(31) Putin: Uznanie Osetii Płd. I Abchazji przez inne kraje "nie jest krytyczne dla Rosji." PAP, 2. 9. 2008.
(32) Lidery stran ODKB negativno ocenili agressiju Gruzii v Južnoj Osetii. Gazeta.ru, 5. 9. 2008.
(33) Zapad ne podderžit vvod sankcij protiv Rossii. Kommersant.ru, 29. 8. 2008.
(34) Dyplomatyczne starcie o Gruzję – relacja. Gazeta.pl, Wiadomości, 1. 9. 2008.
(35) Sidorenko, Sergej: Angela Merkeľ peresmotrela čužije plany. Kommersant Ukraina, 9. 9. 2008.
(36) Strannye zaigryvanija s diktaturoj. Charter 97.org, 3. 9. 2008.
(37) Cyhankou, Vitaľ: Zacha demantrue Mensku vakno mahčymasciau. Svoboda.org, 3. 9. 2008.
(38) USA zawieszają część sankcji przeciwko Białorusi. Gazeta Wyborcza, 5. 9. 2008.
(39) Sikorskij vstretilsia s Martynovym: "Belorusskij samogon i pečeň zubra – eto interesnyj opyt." Charter97.org, 13. 9. 2008.
(40) ES rešit vopros o sankcijach protiv režima Lukašenko posle 28 sentiabria. Charter97.org, 15. 9. 2008.
(41) Milinkiewicz za kontaktami UE z reżimem. PAP, 6. 9. 2008.
(42) Gamillschleg, Hannes: Rauer Ostwind lässt auch Nordeuropa frösteln. Die Presse, 29. 8. 2008.
(43) Pawlicki, Jacek: Patrząc na Gruzję, Finlandia duma o NATO. Gazeta Wyborcza, 2. 9. 2008.
(44) Medvedev: Rossija budet zaščiščať svoi interesy. NTV, Novosti 31. 8 2008.
(45) Európski pozorovatelia nebudú v Osetsku ani v Abcházsku. Sme, 10. 9. 2008.
(46) We did everything right, and I'm proud of it – Medvedev. Russia Today, 13. 9. 2008.
(47) K "cholodnoj vojne" net vozvrata. V konce koncov ES priznaet nezavisimosť Južnoj Osetii i Abchazii. Rossijskaja gazeta, 2. 9. 2008.
(48) Žiteliam Sevastopoľa vydajut rossijskie pasporta, zajavila deputat Rady. Naviny.by, 15. 8. 2008.
(49) Novoselova, Elena – Jakovleva, Elena: Kilogram civilizacii. Obojdemsia li my bez Evropy? Rossijskaja gazeta, 8. 9. 2008.
(50) Glazjev, Sergej: Vstuplenije Rossii  v WTO – eto vopros peregovorov. KM.ru, 26. 2. 2006.
(51) We did everything right, and I'm proud of it – Medvedev. Russia Today, 13. 9. 2008.
(52) Nearly Half of Russia Favors the U.S. Kommersant. Russia's Daily Online, 29. 7. 2008.