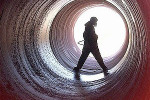 Transpetrol is on the Slovak territory the only operator of the oil pipeline Druzba transporting around 10 million tonnes of oil from the Russian Federation (RF) with direction to the West. The company deals with transport of oil and its storage for its customers and for the Administration for State Material Reserves of the Slovak Republic. In 2005 the company transported the highest volume of oil since 1999 – 10 662 338 tonnes. Its only customer in Slovakia is refinery Slovnaft, an important part concerning the sales and use of pipeline´s transport capacity play refineries in Czech republic – Česká rafinérska spoločnosť a.s. and Paramo a.s.
Position of Transpetrol in international transport of oil
In 2002 the Slovak government sold 49 percent strategic stake to Yukos Oil Company for 74 mil. USD. According to analyst of Aton Konstantin Reznikov activities in the field of oil processing in central and eastern Europe offer the Russians interesting profits, as far as they are located on the Druzba pipeline route. They can process its own oil and market it itself. It was one of the main reasons for the mentioned purchase. The shareholders agreement enables the foreign shareholder full control over commercial activities of Transpetrol. The government reserves the right until the end of April 2007 that it can block sale of shares to a third party. Today 49 percent of the Transpetrol´s shares belong to Yukos Finance B.V., subsidiary of Russian Yukos.
Yukos planned further transport of its oil to Croatian port of Omisajl, by connecting of oil pipelines Druzba and Adria there would be a fluent export route for Russian oil through Belarus, Ukraine, Slovakia and Hungary to Croatian terminal on the Jadran´s coast. It is a project by which transport capacity of the pipeline in Slovakia would be utilized. This is what Yukos pledged by signing of the contract. The mentioned connection would partially solve not only problem with Turkish straits but also handicap of the Baltic Sea where large capacity sea tankers can not sail due to the sea´s low depth. Through Omisalj Russian oil has its way not only to the European but also to North American market, as the Croatian port is able to load tankers of big size and adequate immersion. Lately, connection of Druzba and Adria is being left behind.
Project of mentioned line is a rival project to transport of the Caspian oil through Odesa-Brody route. Before the Yukos´ entry to Transpetrol and MOL´s entry to Slovnaft, Transpetrol was the initiator and coordinator of talks between the Ukraine, central European refineries and oil companies on conditions of Caspian oil transport. According to analyst Karl Hirman Transpetrol in the past tried with Czech oil transport company Mero transport of oil of different origin and quality through Druzba from the Ukrainian border to Czech reservoirs knot in Nelahozeves near Kralupy nad Vltavou whereby the original quality was preserved. From the Ukrainian Brody where pipeline from Odessa connects to the Druzba pipeline further to the Slovak border, also nothing prevents the separate transport of Caspian and Russian oil. It becomes easier as Druzba is momentarily filled only by one half. It is clear that it is not possible to realise project of Russian oil transport to Omisalj and simultaneously transport of Caspian oil to central Europe because in that case capacity of Druzba would not suffice. This battle will be solved not only according to economic factors but also political interests, power, strength of interested countries and also countries which potentially could be supplied by oil products that are produced in Plock. Orlen could this way supply products to a net of drawing countries which it owns in Germany.
Transpetrol in respect to increase of transported oil by its pipeline plans to connect refineries Slovnaft and Schwechat. Construction of pipeline should have begun in autumn 2004 there was a wave of criticism against it from ecological reasons. Though this project is more real than connection of systems Druzba and Adria. Problems are mainly on the Slovak side where a route is being looking for in order to avoid areas with significant drinking water reserves in the Zitny ostrov. Direct consequence would be increase of transport through territory of SR and supply to one of the biggest European refineries. Condition for transport of other than Russian oil was construction of reservoirs to which this liquid could flow so it is not stirred. Construction of such reservoirs Yukos obliged in the shareholders agreement but did not fullfil it. If Transpetrol does not construct the mentioned reservoirs until the end of 2009, it is possible that the project will abandon us. Year 2009 is the date when a connection from Brody to refinery in Polish town of Plock should be finished. Transpetrol also refused offer of Ukrainian transporter which wanted to invest into the construction of reservoirs. By this our country would be deprived of incomes from fees for oil storage.
The mentioned facts stem from untypical sale of strategic company to Russian capital, which interests from long-term point of view go against the strategic interests of SR. On one hand SR would profit from transit fees which are independent from the oil´s origin, on the other hand diversification of oil supplies is one of the features of energetic strategy issued by the Economic Ministry. Yukos got into troubles after tax frauds and it is forced to sell its foreign assets. By this it was deprived of stake in the Lithuanian refinery Mazheiku and shares in Transpetrol would come as next. Concerning our transporter there are several scenarios at hand with different convenience level.
State, Russneft or PKN Orlen
By selecting of next owner of Transpetrol following factors have to be considered such as ability to use the pipeline to the maximum, declared openness to transport of non-Russian oil, transparency of capital, origin of company and from long-term point of view synergy of its interests with interests of our country.
Several analysts think that state should use option right to acquire back full control over the company. Transpetrol is a profitable company and by owning it SR would have possibility to actively influence creation of energetic policy within the EU. Important location of our country was highlighted also by the European Commission, when within the project on Caspian oil transport Slovakia was invited. The unused capacity of the route on our territory gives possibility to transport oil of other than Russian origin.
In this optimal case some issues must be solved, such as sale of Caspian oil, accustomization of Slovak part of the pipeline for transport of several sorts and construction of storage reservoires. Transpetrol is one of European chances to strengthen possibility to choose an oil supplier without necessarily investing into alternative pipelines such as prolongement from Brody to Plock. Thus, free capacity is quite immediately at disposal. Actually, possiblity to choose is one of the jokers against growing self-confidence of Russia in the energetic field.
At the beginning of 2006 an information ocurred in public about agreement between Yukos and other Russian company Russneft regarding transfer of the Transpetrol´s stake. Antimonopoly Office in May 2006 approved the transaction purely from technical point of view.
Russneft was founded in 2003 by former chief of Slavneft, Russian-Belarus oil company, Michail Gutseriev. In the course of one year the company acquired control over several extraction companies with overall yearly capacity of 3 mil. tonnes and reserves nearing to 200 mil. tonnes. The company controls Ulianovskneft, Nefterazvedka, Nafta-Ulianovsk, Varyeganneft a GolOil. Russneft became the fastest growing oil company in Russia, production growth between 2003 and 2004 was 232 percent what was mainly due to acquisitions, while average growth in the sector was 8.9 percent. In 2006 the planned daily production is 500 000 barrels per day. The man behind the company is last mentioned Michail Gutseriev, who owns 70 percent of the company, while the rest belongs to his relatives. The company continues with acquisitions whose part is financed by Swiss company trading with oil – Glencore. After next acquisitions the company acquired Belkamneft, White Nights and Aki Otyr. With yearly production of 6 mil. tonnes Russneft moved to 10th place among biggest oil companies in Russia.
According to several analysts very good political relations of the owner with the Russian government are behind growth of the company because otherwise such a massive growth is hardly to explain. According to analyst Troika Dialog Kah Iknovalits it is hard to find out background of these relations. Despite it Russneft became star of the oil sky.
Russneft is active also behind borders of the RF, where it does not register such success. Israeli secret service recommended to exclude consortium Bianca where Russneft owns 51 percent, from privatisation tender for state refinery. The reason are close ties with Arab countries.
In Slovakia due to Russneft the transfer of Yukos´ stake in Transpetrol was complicated after being agreed for beginning of February after the Slovak side, contrary to approval of the Antimonopoly Officee, did not approve of the transaction. It was reason why Yukos withdrew from preliminary agreement on sale. Despite this declaration there exist further relations between both companies not ruling out change in decision of Yukos. Slovak side from the beginning did not have settled opinion on sale to other Russian company, there was clearly untransparent course of events around Transpetrol, contradictory opinions of Economic Minister Jirko Malcharek and Premier Mikulas Dzurinda. It was premier who expressed doubts about automatic approval of Slovak side with stake´s sale to Russneft. From their behaviour one could feel clear pressure in the background, pressure from the European Commission on one hand, on the other pressure of Russian lobbyists and Russian Ambassador in Slovakia.
Russneft would be even more risky owner for our transporter because of untransparent relations with Russian political elite could become direct tool representing interests of the RF. In this situation Slovakia would not only import almost all necessary oil from Russia but also transit company would have Russian capital behind itself. Yukos was through its owner Mikhail Khodorkovsky in certain opposition to Kremlin, it strived for independent energetic policy for example by oil pipeline projects on the Far East to China. By doing so it intefered in the activities of Transneft, state company which owns all oil pipelines on the RF´s territory. Khodorkovsky also criticised Kremlin´s politics and planned to enter high politics.
In June 2006 media disclosed information that Polish petrochemical company PKN Orlen expressed interest in buying Yukos´ stake in Transpetrol what both Orlen and Slovak Economic Ministry declined to comment.
PKN Orlen, the biggest central European oil company, in June 2006 acquired 84 percent of shares of the Lithuanian refinery Mazheiku Nafta. Also it has been since 2005 majority owner of Czech refining company Unipetrol, through which it also controls Benzina, the biggest fuel stations net in the Czech republic. The whole transaction will have legal proceedings because Orlen obliged in the contract to sell some assets of Unipetrol to Czech company Agrofert, but that did not take place – those companies were from the portfolio of Unipetrol – Agrobohemie, Kaucuk and Chemopetrol. New management of Orlen refused to do it saying the mentioned transactions were inconvenient.
Orlen was founded in 1999 as a result of fusion of companies Petrochemia Plock and Centrala Produktów Naftovych (CPN). It operates together 6 refineries, out of which half is located in the CR. The overall processing capacity represents 21.7 mil. tonnes of oil yearly and manages also almost 2700 filling stations on the territories of Poland, Germany and Czech republic. Polish state owns directly 10.2 percent, through 100 percent state firm Nafta Polska other 17.32 percent of shares and it is the biggest shareholder of the company. The other portion is divided among minority shareholders. Orlen has ambitions to become dominant company in the region therefore its interest in the Transpetrol would be understandable.
Right after the entry of Polish company to Mazheiki there erased conflict about oil supplies for this refinery. Russian monopol owner of oil pipelines Transneft declared that it can stop supplying oil by what Orlen would not fulfill condition of Lithuanian government in order to secure stable flows of oil. Lithuania has similar experience with blockage of its refinery, the other owner was company Williams International, which in privatisation won over Russian company Lukoil. In critical situation supplies could travel by sea. These statements are being presented as a political pressure of the Russian side on countries which refused to sell stakes in strategic companies to Russian firms.
By acquiring of Mazheiki Orlen strengthened position in the region and avoided situation when the company would be as a dominant supplier of oil products in Poland rivalred by a company owning Lithuanian refinery. By entering to Transpetrol Orlen would become competition for Slovnaft. If the company continued in expansion on our market getting also to filling stations, it could supply them from its refineries in Poland, Czech republic, but also from Mazheiki, what would partially weaken monopoly of our biggest refinery.
Similar statements from Russian companies like those after acquiring of control stake in the Lithuanian refinery by Orlen would be in case of Slovakia out of question. Oil pipeline Druzba is an artery through which oil gushes to stable, hard currency paying Western markets and Russian firms unless they are not successful in acquiring of stake from Yukos, cannot afford to avoid our country.
Different issue is how would act Orlen as an owner with Polish state having biggest stake in the company. On one hand it would strive for full usage of the pipeline´s capacity by filling of the pipes also by Caspian oil. This scenario together with growing competition on the Slovak fuel market would be favourable. On the other hand Orlen owns also refinery Plock to where could potentially be prolonged oil pipeline from Ukrainian Brody. This strategy would mean preference of extension and subsequent processing of Caspian oil on the Polish territory.
Conclusion
There are privatisations where criterium of highest offered price does not play most important role. Just this criterium was unfortunately used in privatisation of Transpetrol, the company which could easily have stayed in state hands without suspicion for not supporting the privatisation. Better that time decision would be unpoliticizing of its management organs so they are not changed every 4 years and recruitment of professional managers.
Decision to leave the company in the state hands with subsequent pledge to open empty pipeline to Caspian oil would give clearer form also to Slovak eastern policy in relation to the Ukraine. Energetic independence of our eastern neighbour is a presumption of the full state´s independence from Russia.
Slovakia has currently possibility to correct this mistake, though it is a more difficult fight than in 2002, when Slovak government could have postponed the tender due to low number of participants. Right the buyback of Transpetrol and its openness for non-Russian oil would be a significant contribution of Slovakia to the joint energetic policy of the European Union.