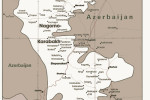 Problem of Nagorno-Karabakh has historical roots in the ancient azer-armenian antagonism. Military conflict which had begun in 1988, culminated during the collapse of the Soviet Union when Karabakh took advantage of the Law on debarkation from the Soviet Union in order to announce its independence. The problem became one of international issues by creation of the Minsk Group at the Conference on Security and Cooperation in Europe (CSCE, since 1994 known as the Organisation for Security and Cooperation in Europe, OSCE). The subject of the analysis is international perception of the Karabakh issue and its implications.
Politics of Armenia and Azerbaijan can be characterized by equidistant principle, principle of international drift and principle of complementarism. Principle of equi-distance was declared as of 1992 after communist regime overthrow by Eburfas Eltschibey and Heydar Aliyev as dominating principle in the Azerbaijan foreign politics whereby the state should act as fully politically, economically and security sovereign and in relation to world and regional powers as an equal partner. Azerbaijan was to develop its international potential on the basis of political pragmatism.
The executed policy indicates the dominance of the Nagorno-Karabakh problem which remains determining factor of the Azerbaijan international relations. Alexandr Grigoryan in this correlation unveils the principle of international drift which makes itself felt in the current and alternate provocation of world (USA, Russian Federation) and regional powers (Iran, Turkey, Georgia) to mount political, economic and if necessary military pressure on Armenia in order to return Nagorno Karabakh under the Azerbaijan jurisdiction.
The above-mentioned principle expressed strongly in relation to Turkey after designation of Eburfas Eltschibey as head of Azerbaijan in 1992. Eltschibey as the advocate of pan-turkism stemming from the mutual historical, cultural, lingual and religious debate of Azers and Turks, hoping for Turkish military intervention aimed vectors of Azerbaijan foreign poloitics at this regional power. Extension of this international priority manifested itself during talks within the CSCE (later OSCE) , UN or bilateral talks with RF.
In these cases conflict of mentioned principles had consequence in domination of the drift aimed at Turkey whereas principle of equidistant remained recessive also after election of Heydar Aliyev as head of state in 1993. As to suggest that international drift was changed concerning the subject where Azerbaijan sought support for the Nagorno-Karabakh. The reason was the unwillingness of Turkey to support Azerbaijan in the forceful solution of the conflict owing to:
1. Turkey´s effort to restore diplomatic talks with Armenia and to come to terms with the ongoing historical trauma with international implications. After the Prague summit of CSCE in 1992 there occurred some hints that these efforts could become a political reality what evoked strong disapproval of Azerbaijan as well as the Turkish opposition. There were some hints also in 2006.
2. Fear from destabilisation of the political reality in Azerbaijan and possible increase of the Russian Federation's influence in the region in connection with the arrival of political elite with different political standpoints. Turkey expressed fears also concerning the cancellation of Karabakh's autonomy in 1992.
Fears of Ankara partially came true after return of Heydar Aliyev who rearranged vectors of foreign politics towards the Russian Federation. Hoping for Moscow´s support in the Karabakh issue Azerbaijan entered the Commonwealth of Independent States (CIS) and became signatory of the Tashkent Agreement on collective security. In reward the RF had knowingly deteriorated ties with Yerevan in favour of Baku. As chronologically shifted (after another change in Azerbaijan political direction) seemed Russian move during the Lisbon session of the OSCE Minsk Group in 1996 when Moscow supported Azerbaijan´s proposal in issues of Shusha and Lachin and therefore even increased disparity of policies executed by the RF´s Foreign Affairs Ministry and the country´s Defence Ministry, of which latter supported Armenian troops by illegal deliveries of weapons.
Regarding the international strategy of Russian Federation in relation to Armenian-Azerbaijan conflict, a visible analogy of RF´s role in solving of problems of Nagorno-Karabakh and Georgian separationist republics enables reconstruction of the country´s priorities.
Certain success of politics based on the international drift enabled the RF to undertake steps owing to isolation of Armenia what contradicted the federation's interests. By weapons deliveries Moscow secured support in Armenia and Nagorno-Karabakh what gave it strong position in order to avert attention and lure favor of second party of the conflict.
Owing to the RF's fear from American political (mainly within the Minsk Group, until that time under mediation of other Western countries), economic (Caspian deposits of oil and gas) and security (possible activities of NATO) influences on the region, the RF needed to gain position of the Soviet Union's successor in the OSCE Minsk Group which is able to solve problems "in its territory" alone therefore Moscow was willing to make a compromise and support Azerbaijan in the issues of Shusha and Lachin.
By doing so the RF de facto exceeded the frame of previous Turkish activities which were represented f. e. by offer to establish diplomatic contacts with Armenia under the condition that Shusha and Lachin submit to the Azerbaijan jurisdiction. Correlation with Georgia enables us to state that previous change of Moscow's politics towards Azerbaijan and Armenia in 1993 should have secured entry of Azerbaijan to the CIS and ratification of the Agreement on collective security. Peace Treaty signed in CIS in 1994 should lead to deployment of Russian peace forces what would ensure the RF's unendangered position to interfere in political and security processes in the region.
This initiative of Moscow was contrary to Georgia's case not successful, firstly owing to resistance of Azerbaijan with its head Heydar Aliyev who was designated by Moscow, secondly owing to resistance of the Minsk Group members with Sweden as presiding country, representing mainly interests of the USA, which were not yet co-presiding country of the Group at that time. On the contrary, the initiative led to change in the political direction of Azerbaijan and therefore fears of a subject which Baku selected within the international drift principle as its representative came true for the second time as it was in case of Ankara.
Support to Azerbaijan´s proposal by Moscow was therefore expression of ongoing efforts to reverse Baku´s political direction and had to be a means of original strategic tasks in the region.
International drift in the sense of pro-Western orientation after signing of peace treaty in CIS had begun by visit of Heydar Aliyev in Great Britain where he announced preparedness of Azerbaijan to close the so called contract of the century on extraction and transport of Caspian oil with British Petroleum.
Caspian deposits of oil and gas became Baku's main instrument for acquiring favor of the USA which in 1997 obtained status of co-presiding country of the Minsk Group. Simultaneously, they became main weapon against Armenia within the international drift principle. Whereas policy of Jelzin's Moscow was based almost solely on the political-security steps, policy of the USA and the West was based mainly on the economic influence. Washington by means of economic pressure had embossed the RF from Azerbaijan. Thus as a consequence of geopolitical factors the isolated Armenia requested Kremlin to accelerate wheels of economic contacts what partially became real after the inauguration of Vladimir Putin.
The fact that Putin's politics gradually succeeded is reflected in declarations by Azerbaijan President Ilcham Aliyev from the end of December 2006 who criticized relations between the RF and Armenia and an insufficient award of priorities to Azerbaijan, in his own words: "Azerbaijan neighbors the RF, not Armenia". The RF took on to its arms in the region also economic processes.
Concerning the relations between the RF and Azerbaijan, despite all problems is the so called Azerbaijan model rated as an example for f.e. Georgia-Russian relations where the problem of separatist territories is being left abandoned and to its detriment other, practical, problems in bilateral relations start to gain ground.
Contrary to Georgia Azerbaijan strives to have constructive relations with Moscow whereby there is a visible tendency "to be at home both in Washington and in Moscow", what leaves an open door to the political drift. Azerbaijan f. e. does not regard Russian military presence (Gabalin radiolocation station, Kasfor project) as inteference in its sovereignty.
Similar model should serve to normalization of Armenian-Azerbaijan relations after the USA had become co-presiding country of the Minsk Group. The mentioned American concept consisted of the conditions that Armenia and Azerbaijan restore economic contacts at first and then they will solve problem of Nagorno Karabakh. Both Jerevan and Stepanakert agreed with the offered concept, but Baku refused it because in its politics dominated principle of drift aimed at the political, security and economic isolation of Armenia.
Armenia as a country in the given situation with totally inconvenient location (ties with Azerbaijan and Turkey on the freezing point, absent transport connection, dependent on the Nagorno-Karabakh's solution, absence of borders with RF, absence of fuel deposits) chose for its foreign policy the principle of complementarity based on pragmatic political relations with all powers, economic ties based on liberal market rules, security relations based on cooperation with the CIS countries (Organization of agreement on collective security) on one hand and with the NATO through individual plan of cooperation on the other hand.
Principle of complementarities is basically close to principle of equidistant, declared by Azerbaijan elites. Former Armenian President Levon Ter-Petrosian began to execute the principle, afterwards continued current President Robert Kocharian. Shift in the presidential politics is based mainly on the standpoint to the future status of Karabakh, whereas Ter-Petrosian was inclined to give up Karabakh and other territories held under its control, former Karabakh's President Kocharian did not approve of the concept: Azerbaijan's Karabakh de iure, independent de facto. In fact, Karabakh is since its occupation by Armenians de facto independent from Azerbaijan (jurisdiction, monetary policy…).
While during the times of Ter-Petrosian there occurred two tendencies in political processes around Karabakh, i.e. Ter-Petrosian's concept of recognition of Azerbaijan's territorial integrity and concept based on the nation´s right of self-determination, currently dominating is Kocharian's politics based on national self-determination. Armenian political parties, mainly the opposition Democratic Party of Armenia (DSA), call for Karabakh to be part of talks about its status as an independent subject.
In December 2006 envoy extraordinary of the European Union in the southern Caucasus Peter Semnebi during talks with President of Nagorno-Karabakh Arkadiy Gusian expressed conviction that the EU will directly work with Nagorno-Karabakh in order to solve the conflict. While these approaches are considerably similar (participation of Karabakh´s elites in the regulation of conflict and therefore certain standard of their legitimation), their motivation is different.
Differences stemm from the fact that there are minimal two approaches towards the region in the international community: current stability and preservation of the status quo does not satisfy Georgia, Azerbaijan, the USA and the EU. Armenia, Russia, Iran and Turkey are interested in the preservation of the status. While DSA strives for recognition of legitimate Karabakh and therefore strengthening of the status quo de facto and progressing in de iure status, the EU would in case of the mentioned cooperation probably try to progress further by solving the complicated negotiating position when the separatist republic is in talks with "its mother country" under mediation with a third, sovereign state. Such a step would be motivated by efforts to softly "melt down" the conflict because all partners, the USA, the EU, Turkey, Iran, Georgia, are afraid of destabilization of the region, renewal of the conflicts and their widening.
Apart from their own interests, role of the powers is to prevent possible restoration of the military conflict, eventually the intermediary mission is the only cause of the current peace state.
At the same time, preference of the international community towards Azerbaijan for economic-energetic reasons is not unambiguous. The USA, participating in the processes connected with the Nagorno-Karabakh, appended historic rivalry of Turkey, Iran and Russia, whereby this process led to considerable weakening of position of first two mentioned countries. Though Washington closes its eyes over f. e. state of democracy in Azerbaijan sacrifying this issue to energetic interests, on the other hand only Georgia out of the region's countries moderately exceeds volume of American financial help to Armenia. Armenia also intensively progresses cooperation with the NATO.
Preferences of RF are also not outright, indeed Azerbaijan is openly a member of the pro-Atlantic organization GUAM (Organization for democracy and economic development) and to some extent also the competitor of the RF in the field of energetic, nonetheless Moscow tries to keep its influence in this country and by doing so to retard the processes oriented on the USA.
Neither position of regional powers is unambiguous. Georgia despite it is a member of the GUAM like Azerbaijan and despite its energetic partnership (author's note: supposing there is no Karabakh conflict, Azerbaijan energetic sources would flow the shorter and more economical route i.e. through Armenia) and the emphasis on principle of territorial integrity, the country remains neutral in the Nagorno-Karabakh issue.
Iran is oriented towards Armenia mainly as a consequence of incompatibility of the politics of Iran and the USA. The country develops economic cooperation with Armenia based on the Agreement on partnership and cooperation from 1992, at the same time it supports shiite authorities in Azerbaijan. Cooperation with Armenia also stems from unsuccessful peace mission of Iran in 1992 and consequent restriction of Iran's political influence f. e. by banning of pro-Iran Islamic party on the territory of Azerbaijan. On the other hand Iran's retreat from its positions in Azerbaijan is undoubtedly connected with the fact that exponential growth of the Islamic revolution's ideas at the end of 80's (posters of Ayatollah Khomeini during demonstrations "for rescue of Nagorno-Karabakh") led to mass destruction of blockades on the Azerbaijan-Iran borders of approx. 700 km by thousands of Azerbaijan Azers, what caused fear in Iran from mounting pressure on separatist tendencies, made not by official Baku, but by Azers' population itself. As a non-member of the OSCE, Iran is excluded from talks about status of Karabakh within the Minsk Group.
Turkey, culturally, historically, religiously and lingually close to the Azers, is slowed down by efforts to get close to the EU what implies normalisation of relations with Armenia. Latest development connected with this issue shows that continual process in order to warm up the relations has become real. The EU, which representatives in the Minsk Group repeatedly enforced interests close to the USA, treats both countries approximately as equal: it critices both countries for shortcomings in the state of democracy (a specific issue has aroused in Azerbaijan due to election fraud), freedom of speech and problems with the transformation of economy. In case of both countries the EU on November 13th 2006 ratified The Action Plan of European Neighborhood Policy and the countries adopted it one day later. In relations between Armenia and the EU is to see certain convergence stemming from the same position on genocide of Armenians at the beginning of last century. On the other hand Council of Europe in 2004 acknowledged principle of territorial integrity of Azerbaijan.
Azerbaijan continues to follow the principle of international drift and it tries to persuade powers towards the isolation of Armenia. The fact is that character of the mentioned principle changed: the fact that Azerbaijan headed by Ilcham Aliyev tries in autumn 2003 to "be at home in Moscow and also in Washington" keeping an open gate for political drift is a consequence of increasing coherence of principle of drift with originally declared principle of equidistant. Orientation of Azerbaijan towards the USA and Turkey is known for a longer time, although we can say that during 2004 the country's relations with Russia have improved immensely.
Armenia tries to lobby in the USA, EU and RF and to look for partners within geopolitical boundaries by means of complementary politics. Convergence of their positions on Nagorno-Karabakh is currently out of sight. The Minsk group during its existence submitted four proposals how to solve the problem, however they were rejected due to resistance from either of the parties. Last meeting of presidents of both states, which was in February 2006 in France, pre-prepared by foreign affaires ministers in January 2006, allegedly registered some progress.
At the beginning of March Ilcham Aliyev at the onset of mentioned talks declared that they were not bringing any outcome, where Azerbaijan is a damaged party what gives the country right to solve the problem discretionary. Chance of military conflict, tried to be avoided by other participating countries, remains open. Azerbaijan, during war conflict and continually until first years of this century disposing of relatively weak army, diminishes its handicap. In March 2002 when costs of Azerbaijan army's transition to NATO standards estimated 5000 to 7000 USD per inhabitant per year, the amount of 500 USD per head represented a critical borderline of social function of the state. In November 2002 catastrophic state of the army, connected with mass desertation were so striking that President Heydar Aliyev proposed to solve the situation in military forces by establishing a charity fund. Yet, growth of Azerbaijan economy enabled to increase absolute expenses for army without sharp increae of the relative expenses.
Viktor Kovalov indicates that in 2005 state budget of Armenia amounted around 400 million USD and military expenses 91 mil. USD or approximately 23 percent of the state budget. Azerbaijan's budget summed 2 billion USD and military budget 240 mil. USD or 12 percent of the state budget. According to him trend of last years indicates relatively small part of military expenses of Azerbaijan in the country's state budget contrary to its absolute size which is growing fast (by 33 percent in 2005 compared to 2004). Armenia increasing amount of its military expenses in the state budget almost to the quarter of the budget, remains behind Azerbaijan in absolute numbers of military expenses. For example in 2004 military budget of Armenia was 83 mil. USD, while military budget of Azerbaijan amounted to 180 mil. USD – the difference was 97 mil. USD. In 2005 the difference totaled even 149 mil. USD.
Everything indicates that process of determining the status of Nagorno-Karabakh will be long-term. Quick solution implies also the risk of restoring violence what has become owing the increasing armament expenses of Armenia and Azerbaijan as excessively real. Regulation of frozen conflict depends on the political development in Armenia (presidential election in 2007) and in Azerbaijan (precisely when will be the end of Aliyev's dynasty and character of new governing elite), on movement of power arrangement of external states (mainly the USA and RF but also Turkey and Iran), on changes in their southern-Caucasus politics and also on precedent solution of separatist problems in other areas.