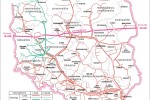 Poland has been covering the majority, almost three quarters, of its earth gas consumption by supplies from the gas pipeline Yamal. Only the remaining third of raw material supply flows through Ukrainian gas pipelines. Therefore the cut of gas supplies for Ukraine, which the Russian concern Gazprom carried out in January 2009, didn't have such an impact on Polish economy as on other countries dependent on Russian energy material supplies, for instance, Bulgaria and Slovakia. Problems with earth gas supply, however, haven't been solved by the conclusion of an agreement signed by the prime ministers of Russia and Ukraine Vladimir Putin and Yulia Tymoshenko.
Gazprom's daughter company RosUkrEnergo (RUE), which fulfilled the task of an intermediary as regards gas supplies for Ukraine, was expelled from Ukrainian market. The gas reserves, which it stored in Ukraine, were taken over by Ukrainian national distribution company Naftohaz Ukrajina. Subsequently on 22nd January, 2009, the Polish national energy company PGNiG registered a decrease in earth gas supplies by approximately one quarter. Around 7 million cubic metres of gas flowed daily via the entry point Drozdowice, which is half the amount in comparison with the period prior to the outbreak of crisis in Ukraine. According to the Moscow daily Kommersant Hungary and Romania, which took gas from RUE as well, get receive full volume of agreed supplies (1). Poland may lose gas supplies amounting to 2.3 billion m3 in total annually. Events related to the Russian-Ukrainian gas conflict stood for a challenge also for Poland and sparked discussions about energy security in this country too.
Earth gas consumption and sources in Poland – the current state
Poland is just to a limited extent dependent on earth gas, which constitutes solely 13 per cent of the overall energy balance of the state, which represents approximately half of EU average. Its consumers are predominantly chemical enterprises, metallurgical industry and thermal power plants. Polish energy balance is dominated by coal (about 65 %), whereas electric power production is covered nearly to 90 per cent by the processing of black and brown coal (2). From the point of view of energy balance, Poland is marked by a high degree of self-reliance because it imports about 35 per cent of energy consumption (according to the Vice PM Waldemar Pawlak, who is responsible also for energy question, approximately 18%) (3) while other EU states have to import 50 – 70 per cent in average. Nowadays, however, Polish energy needs reach around 30 per cent of the needs of an average EU-15 state (EU member states prior to 2004).
Two thirds of Polish earth gas consumption is covered by imports and approximately one third by domestic extraction. At present, annual earth gas extraction from domestic sources accounts approximately for 5.2 billion m3, although the volume of this extraction sinks, the company PGNiG, which has a monopoly in this field, forecasts in terms of the strategy of its development a growth up to 6.2 billion m3 by 2015. Earth gas in Poland is extracted primarily in the western part (Polish Lowland, Poznań's surrounds, about 67 % of domestic extraction) and Subcarpathian Voivodeship (32 % of domestic extraction). Methane extraction is under way in sixteen coal deposits. In 2007, it amounted to 276.2 million m3 in total, prospective gas supplies in coal deposits are estimated at 254 billion m3 (4).
In 2007, out of the total volume of 9.3 billion m3 of imported gas 6.2 billion m3 came from Russia (i.e. 66.6%), 2.3 billion m3 (24.7%) from Central Asia, 0.8 billion m3 (8.6%) from Germany, 0.42 billion (4.5%) from Ukraine and 0.3 billion (3.2%) from the Czech Republic. Sources from Central Asia are under the control of the Russian company Gazprom at present. Gas is imported to Poland via entry points Drozdowice (Polish-Ukrainian border, Jambur gas pipeline), Vysokoje (border with Belarus, Orenbur gas pipeline) Włocławek and Lwówek Wielkopolski (gas pipeline Jamal – Europe), Lasów (supplies from Germany through the company VNG, Leipzig), Głuchołazy and Branice (borders with the Czech Republic) and via a local entry station on the borders with Germany (Gubin).
Poland uses gas for electric power production just to a small extent, steamgas blocs are in the power plants Lublin-Wrotków, Rzeszów, Nowa Skarzyna, gas with nitrogen content is used in blocs in the power plants Gorzów Wielkopolski, Zielona Góra and Kostrzyn. However, these blocs are smaller ones. There isn't a larger bloc processing exclusively earth gas in any power plant. Nowadays, the construction of such blocs is planned by the companies Tauron Polska Energia in the power plant Stalowa Wola (with 400 MW output) and the Czech concern ČEZ in the power plant Skawina. Gdansk, where the group Energa, the company Lotos and PGNiG signed an intention letter (Energa – construction organiser, PGNiG – raw material supplier, the oil refinery Lotos – the main consumer) is considered as well. The completion of the power plant in Gdansk is scheduled for 2011, its estimated output will be 150 – 400 MW (5).
According to the estimates of the Energy Regulation Office of the Polish Republic earth gas consumption will rise from 10 Mtoe (megaton of oil equivalent) in 2005 to 13.35 Mtoe, i.e. approximately by one third, in 2030. According to the Regional Centre of Strategic Studies (RCSS) as early as 2020 domestic extraction will cover not one third, but only one fourth of gas consumption and therefore the need of gas import will grow (6).
Polish measures in the field of energy security
At their session on 9th January, 2009, a group of energy experts from all EU member states recommended several states including Poland to increase domestic earth gas extraction. Available earth gas deposits in Poland amount approximately to 100 – 150 billion m3. Considering the overall consumption of 13 – 14 billion m3, these would be exhausted after ten years. That's why the Vice PM responsible also for energy questions Waldemar Pawlak says that to step up domestic extraction could be problematic and unprofitable and would require immense technological investments. (7)
In the political field Poland proposes on the EU level to apply the energy solidarity clause in such a case when at least 50 per cent of supplies for a member state during four winter weeks are endangered. He also recommends adopting on the EU level the commitment to the obligatory definition of energy raw material reserves as well as to the mutual lending of stored gas among EU member states in the case of crisis situations. In a discussion the MPs of the Polish Sejm also proposed that aside from agreements on the level of commercial subjects and on state level, also the guaranteed supplies of earth gas and other energy materials be secured on the level of bilateral contracts between the EU and Russia. The strategic objective of the Polish Government is to cover 30 per cent of earth gas consumption by domestic extraction, other 30 per cent by source diversification and 40 per cent by sources from Russia.
At present, the Polish Government has been working on the preparation of the Energy Strategy for Poland till 2030. By the end of February 2009, a special act of the Ministry of State Treasury, which will speed up the project, selection and construction procedure for investments in the area of energy, is to be adopted. Today, with regard to the expected oil and earth gas price decrease, the Polish Government assumes a negative stance on the possibility of producing gas by means of coal gasification deeming it unprofitable irrespective of a research has been conducted in this field in Poland. This way, which is based on domestic coal deposits, is supported by the minor coalition partner in the current Government, namely the Polish People's Party (PSL) led by the Vice PM Pawlak.
Following the session on 13th January, 2009, however, the Polish Government initiated the formulation of the Polish Nuclear Energy Program. The Special Representative of the Government for the Questions of Polish Nuclear Energy will be responsible for its conduction. In terms of the program the construction of two nuclear power plants within a time horizon of 10 – 15 years is being considered. (8) The first nuclear power plant is supposed to start functioning by 2020. Nevertheless, the restrained attitude of the governmental PSL might be a bit of a problem. The Government doesn't exclude even Polish participation in the form of an investment in abroad. Lithuania is being weighed up in this respect.
Nonetheless, experts, for instance, Prof. Stefan Chwaszczewski of the Nuclear Energy Institute in the town of Świerk, claim that if the construction of a power plant in Poland was decided on at present, its completion would be conceivable as late as in 15 years. This period encompasses the time necessary for the adoption of the prerequisite legislation, the work-out of a project and construction plan as well as the construction itself. (9)
The construction of nuclear power plants is included also in the document Polish Energy Policy till 2025, adopted by the Polish Government on 4th January, 2005, although no steps have been made in this area in practice. On 9th January, 2009, the Vice PM stated in Sejm that before the end of 2008 Poland was given a proposal from unspecified investors for the construction of power plants with a total output of 25,000 MW (10). France is considered a potential partner as for the construction of power plants. The State Secretary of the Economy Ministry Adam Szejnfeld plans to visit this country in the middle of February 2009 and negotiate there about the financing of projects and the provision of necessary technology. Polska Grupa Energetyczna (PGE) is supposed to be the conductor of nuclear power plants construction. Nine locations are weighed up including the most probable one, namely Žarnovec in the north of Poland, where nuclear power plant construction was under way in the 1980s, which, however, was stopped. (11)
The key priority of the Polish Republic is the building of an LNG terminal in the port Świnoujście that will enable to consume 2.5 billion m3 of liquefied earth gas annually. This information was confirmed not only by the Vice PM Pawlak, but also by the Chief of the National Security Office Władyław Stasiak. (12) The completion of the terminal is estimated at 2013 – 2014. The project itself is the subject of a consensus between the ruling coalition and the opposition and is regarded as realistic also by the representatives of entrepreneurial sphere (for example the former Chairperson of the Board of Chairs of the oil refinery PKN Orlen and the current Director of the company Icentis Corporate Solutions Igor Chalupec) in view of limited capacities of gas deposits in Scandinavia. (13)
Nowadays, the construction is in the stage of project preparation. Although governmental representatives affirm that the location has been selected definitely, Vice PM Pawlak challenged this fact on 16th January, 2009, saying that also other locations came into consideration. (14) In response to these statements, however, the State Secretary of the State Treasury Ministry Krzysztof Zuk stated the next day that the port was sure to be constructed in Świnoujścí. (15)
The terminal project was supposed to be finished in October 2008. Due to a default, the developer, the Canadian company SNC-Lavalin, acceded to pay conventional fine. On the other hand the daughter company of the operator of intrastate gas pipelines Gaz-System PLNG declared the intention to continue in the cooperation with the Canadian company. According to the latest agreements project preparation is meant to be finished in April 2009. (16) Subsequently, according to the State Treasury Minister Aleksandr Grad an application for obtaining the particular building permission (17) is supposed to be filed and also a special act pertaining to the gas port construction will be adopted. (18) Gas supplies for the LNG terminal are supposed to be ensured predominantly from Qatar and Kuwait. Discussion about this question was the purpose of Prime Minister Donald Tusk's visit to these states in 2008. More advanced are negotiations with Qatar, which were under way on a lower level also in January 2009. (19) Against the LNG terminal construction is the German company VNG, which intends to penetrate the Polish market as a distributor for retailers more intensively. (20)
An alternative to the LNG terminal building is the construction of a gas pipeline connecting Poland and Denmark via the designed gas pipeline Baltic Pipe to Denmark, (21) where the construction of the gas pipeline Skanled to Norway is already under way. The polish company PGNiG is a member of the Skanled consortium too. In the course of 2008, another consortium partner, the British company Ineos, considered give up the project. Later, however, it changed its intention. Norwegian Oil and Energy Minister Terje Riis-Johansen informed of the resumption of construction in January 2009. (22) Several experts and entrepreneurs, linked particularly with the former governmental Democratic Left Alliance, have objections against the designed gas pipeline. They suppose that the construction will be unprofitable arguing that Norway and Poland gave up its construction after 2001 in view of the fact that its profitability would require the ensuring of an annual consumption of 3 billion m3. Simultaneously, they estimate the time of the exhaustion of Scandinavian gas deposits at 2015. (23) The company Gaz-System backs the building of the gas pipeline anyway. According to the Chairperson of the Board of Chairs of this company Igor Wasilewsky, the reason is the fact that also after 2015, when Danish earth gas sources will be exhausted, we may expect that Denmark will be interested in transporting gas in the opposite direction. (24)
As far as short-term measures are concerned, the diversification of earth gas supply intermediaries between Gazprom and PGNiG is being weighed up, the Hungarian Emfesz in particular. And the Polish Government wants to conclude mainly short-term contract. Among other proposals are, for instance, the initiatives of the former Deputy PM Janusz Steinhoff, who suggest building a second branch of the gas pipeline Yamal in terms of collaboration with Russia. This, however, should respect Russian intention to bypass Belarusian territory and lead through the Baltic States and Poland. (25)
The company Gaz-System plans to commence the building of new interconnections with European gas pipeline network by the end of 2009. In the course of 2009, the Open Season procedure (the reservation of transport capacities) is meant to begin. Its results will facilitate the adoption of an adequate and economically justified investment decision in the field of transport routes construction. After the end of the mentioned procedure and after the conclusion of binding contracts concerning gas transport at the end of 2009, the building of routes is due to start. The company has got unbinding declarations pertaining to the planned earth gas volumes beforehand. The construction of interconnectors on the borders with Germany (Szczecin region, the Czech Republic (Cieszyn) and Lithuania (Suwałk surrounds) is being considered. In the Niechorza region Poland could get connected to the designed gas pipeline Baltic Pipe from Denmark. (26) On 29th January, 2009, the extraordinary plenary session of the company PGNiG 29 endorsed the sale of documents regarding the conduction of the project Baltic Pipe without a tender to the company Gaz-System. (27)
It is about approximately 500 km of gas pipelines in total which are to be co-financed from EU sources. The interconnection Bernau – Szczecin, which would ensure gas supplies from the Russian Federation through German territory, was pushed through after 2001 by the concern Bartimpex, the head of which, Aleksander Gudzowaty, was close to the then governmental Democratic Left Alliance (SLD). Following its failure in 2005elections, the project became out-of-date and at present, Bartimpex isn't involved in energy projects. (28)
In terms of the Operation Program Infrastructure and Environment – National Interconnection Strategy 2007 – 2013, the company Gaz-System plans to make the intrastate transport system more effective by means of constructing routes in northwestern Poland. It is based on 600 km of gas pipelines on the route Świnoujćie – Szczecin, Szczecin – Lwówek, Szczecin – Gdansk, Gustorzyn – Odolanów, Włocławek – Gdynia and a new compressor station in Goleniow worth 5 billion PLN. Also the construction of 390 km of new gas pipelines in southeast Poland (Tarnow surrounds) is to be completed by 2015. This applies to piping pieces Jarosław – Głuchów, Hermanowice – Strachocina – Podgórska Wola, Podgórska Wola – Tworzeń, new hubs Zarzekowice, Rozwadów, Jarosław, Hermanowice and new compressor stations Jarosław II and Hermanowice. (29)
Diversification projects in Poland are considerably supported, mainly because of the gas conflict between Russia and Ukraine. According to an opinion poll carried out by the agency GfK Polonia on a sample of 500 adult respondents and ordered by the daily Rzeczpospolita, which was released on 17th January, 2009, 55 per cent of respondents are ready to pay more for gas in order to get rid of the dependence on Russia. 41 per cent of respondents assumed a negative stance on the possible price increase, 4 per cent didn't take any stance. The dependence on Russian gas poses a threat to Poland's sovereignty according to 62 per cent of respondents (40% "rather yes" and 22 % "definitely yes"), while 30 per cent of respondents were of the opposite opinion (24 % "rather no", 6 % "definitely no"). (30)
Earth gas storage capacities
In Poland earth gas storage capacities account for 1,640 million m3, whereas the maximum amount of gas, which is possible to draw within 24 hours, ranges between 20 (International Energy Agency estimates) and 34 million m3 (Gas Storage Europe estimates). Average daily consumption in January ranges from 45 to 71 million m3, i.e. storage tanks may cover 28 – 48 per cent of daily gas consumption maximum. The time of the complete depletion of underground storage tanks ranges from 48 to 82 days at the maximum flow. (31) The national company PGNiG has a monopoly on earth gas storage capacities. Today, Poland has six underground gas storage tanks at its disposal.
Existing and designed underground earth gas storage tanks in Poland

Apart from Wierzchowice and Moglina, all existent storage tanks are situated in the region of southeast Poland, where earth gas used to be extracted in the past. The designed storage tank Kosakowo is beside Gdansk. Wierzchowice is situated nearby Wroclaw, the storage tank Mogilno is near the Yamal gas pipeline route not far from the town of Poznań. Daszewo lies on the western coast of the Baltic Sea. (32)
In Daszewo and Bonikow PGNiG plans to build underground storage tanks for earth gas with nitrogen content. The volume of the gas stored is meant to expand in all underground storage tanks with the exception of storage tanks Swarzóva and Brzeźnice. The storage tank Wierzchowice is to be enlarged partially as early as 2011 up to the capacity of 1.2 billion m3 of gas. The companies PBG (Poland), Tecnimont (Italy), Societe Francaise d´Etudes et de Realisations d´Equipements Gaziers (France) a Plynostav Pardubice Holding (the Czech Republic) participate in its construction. The construction of Kosakowo will start in 2009. The company PGNiG decided on its building in October 2008, the costs of the whole investment will be 70 million euro, three quarters of which will be financed from EU funds. (33) The Polish company Gazprojekt prepared entry analyses of other three underground gas storage tanks as well, namely Kałuszyn (nearby Warsaw) with a supposed volume of 600 million m3, Daszewo (the western coast of the Baltic Sea) and Chabowo (beside Szczecin) with a supposed capacity of 500 million m3. (34)
It is the storage tanks Brzeźnica, Swarów, Husów and Strachocina in southeast Poland which are interesting for Slovakia. The last mentioned, Strachocina, lies the closest to Slovak borders, which would enable the construction of an interconnector through which it would be possible to interconnect the system of Slovak gas pipelines with Polish intrastate routes. This interconnection would be just of regional importance since Strachocina is intended solely for the supplying of Subcarpathian Voivodeship and the planned rise of its volume won't facilitate more voluminous gas transfers either.
On 13th January, 2009, Prime Minister Donald Tusk announced the construction of underground earth gas storage tanks in Wierzchowice (Lower Silesia) Mogilno (Kuyavian-Pomeranian Voivodeship) and Kossakowo (Pomerania). The construction will be carried out thanks to EU sources, namely the program Infrastructure and Environment. Their capacity is to be stepped up to 2.36 billion m3 with the ultimate aim of reaching the number 4 billion m3 till 2015. The growth of domestic earth gas extraction is to be conducted in deposits Lubiatów, Międzychód and Grotów. The building of extraction capacities worth 1.5 billion PLN in this region is due to be finished in 2013. (35) The government too plans to increase the number of interconnectors, mainly on the borders with Germany, and to link Poland with the gas hub in Baumgarten primarily as regards the possible construction of the Nabucco gas pipeline.
Conclusion
The key Polish energy policy's priority is the diversification of sources and energy material transport routes. Nevertheless, it remains a question to what extent the gas conflict between Russia and Ukraine from January 2009 will be an impetus for speeding up the conduction of often ambitious projects many of which can fulfil their tasks only after several years. So far, Poland, like other European Union states, hasn't reacted adequately to previous earth gas and oil supplies crises from 2004, 2006 and 2007.
Poland doesn't plan to yield up gas supplies from the Russian Federation and keeps on regarding this country as the most significant source of earth gas. The expected growth of earth gas consumption excludes such speculations anyway. In this context we may find out that, for example, in comparison with the period prior to 2001 discussions about Polish energy policy have more realistic an less ideological character and apart from political aspects, economic aspects are being talked about openly as well. The building of a gas LNG terminal remains the subject of a consensus. Energy diversification projects become the subject of rivalry among several entrepreneurial groups enjoying support even in terms of the establishment. The outline of, for instance, the support of domestic coal producers, or rather, supplies for the Russian Federation in coalition PSL, becomes very clear, although the ruling majority upholds gas import from other sources.
Poland is likely to face pressure from the side of Russia also as regards diversification projects since their realisation will mean the enfeeblement of Russian hitherto almost monopoly position on the Polish gas market. This is proved by the obstructions of Gazprom, which sets the amendment to the contract on Yamal gas pipeline, concluded between Poland and Russia in 1993 and binding up to 2022, as the condition for restoring gas supplies which were cut by its daughter company RUE. Although Gazprom hasn't concretised its demands yet, among them may be, for example, Polish commitment to take such gas volumes which would prevent import from other sources, refraining from the intention to build a second line of the Yamal gas pipeline as well as the acquisition of the right to conclude contracts directly with Polish enterprises, or rather, the control over gas distribution to end consumers. (36)
The fundamental problem of all projects on energy materials supply is their economic profitability with regard to energy routes construction and the price advantageousness of earth gas from the Russian Federation. The factors mentioned confirm that energy security projects must be drafted and conducted on the level of the entire EU, or rather, at least on the level of regions like the Visegrád Four or the Baltic Sea region. Otherwise the position of national states is vulnerable. Nowadays, individual states aren't capable of solving questions of their energy security by themselves.
Notes:
(1) Kublik, A.: Do Polski gaz nie dopływa. Gazeta Wyborcza, 22. 1. 2009; Grib, N. – Gavriš, O.: Poľše primorozili gaz. Kommersant, No. 14, 28. 1. 2009.
http://www.kommersant.ru/doc.aspx?fromsearch=55e4f966-898d-47cb-ba24-0edf54ed4c32&docsid=1109401
(2) Polska gospodarka tylko w 13 procentach zależy od gazu. Gazeta Prawna, 14. 1. 2009.
http://biznes.gazetaprawna.pl/artykuly/107092,polska_gospodarka_tylko_w_13_procentach_zalezy_od_gazu.html
(3) Sejm przyjął informację rządu nt. bezpieczeństwa energetycznego Polski. Puls Biznesu, 23. 1. 2009.
http://www.pb.pl/Default2.aspx?ArticleID=a36d4d8d-1f52-47a4-9aa4-a5c647322ea8
(4) Parnes, Jakub: Energetyczne wyzwanie. Polska.pl – Wiadomości, 19. 1. 2009.
http://wiadomosci.polska.pl/specdlapolski/article,Energetyczne_wyzwanie,id,362769.htm
(5) Ciepela, D.: Blok gazowy powstanie w Elektrowni Stalowa Wola. Wirtualny Nowy Przemysł, 23. 10. 2008.
http://energetyka.wnp.pl/blok-gazowy-powstanie-w-elektrowni-stalowa-wola,63449_1_0_0.html;
Ciepela, D.: Rozwój elektrowni gazowych wymusi import gazu. Wirtualny Nowy Przemysł, 1. 12. 2008.
http://gazownictwo.wnp.pl/rozwoj-elektrowni-gazowych-wymusi-import-gazu,66458_1_0_0.html
(6) Zaopatrzenie kraju w surowce energetyczne i energię w perspektywie długookresowej. Prognozy wykorzystane do przygotowania wstępnego projektu NPR 2007 – 2013.
http://www.funduszestrukturalne.gov.pl/informator/npr2/prognozy/zaopatrzenie.pdf
(7) Pawlak: trudno zwiększyć wydobycie gazu w Polsce. Bankier.pl – polski portał finansowy, 12. 1. 2009.
http://www.bankier.pl/wiadomosc/Pawlak-trudno-zwiekszyc-wydobycie-gazu-w-Polsce-1890795.html
(8) Bezpieczeństwo energetyczne priorytetem rządu Donalda Tuska. Kancelaria Prezesa Rady Ministrów, 13. 1. 2009.
http://www.kprm.gov.pl/s.php?id=2896
(9) Sadowski, H.: Już za 13 lat w całej Polsce popłynie energia z atomu. Polska – The Times, 6. 12. 2008.
http://www.polskatimes.pl/stronaglowna/67410,juz-za-13-lat-w-calej-polsce-poplynie-energia-z-atomu,id,t.html
(10) Pawlak: deklaracje budowy 25 tys. MW nowych mocy. PAP, 9. 1. 2009.
(11) Szejnfeld: we Francji będę rozmawiał o energetyce jądrowej. PAP, 15. 1. 2009.
(12) Stasiak: Gazoport musi być priorytetem. PAP, 7. 1. 2009.
(13) Chalupec: Polska powinna wyciągnąć wnioski i znaleźć innych dostawców gazu. Wirtualny Nowy Przemysł, 9. 1. 2009.
http://www.wnp.pl/wiadomosci/chalupec-polska-powinna-wyciagnac-wnioski-i-znalezc-innych-dostawcow-gazu,69173_29_0_0_0.htm
(14) Pawlak: sprawa lokalizacji gazoportu nie jest zamknięta. PAP, 15. 1. 2009.
(15) Żuk: sprawa lokalizacji gazoportu w Świnoujściu jest zamknięta. PAP, 17. 1. 2009.
(16) Kanadyjczycy dokończą projekt gazoportu. Cire.pl – Centrum Informacji o Rynku Energii, 17. 1. 2009.
http://www.cire.pl/item,37816,1.html
(17) Grad: w maju wniosek dot. pozwolenia na budowę gazoportu w Świnoujściu. Cire.pl – Centrum Informacji o Rynku Energii, 21.1.2009.
http://www.cire.pl/item,37920,1.html
(18) Rząd przyjmie specustawę dot. Gazoportu. Gazeta Wyborcza, 3. 2. 2009.
(19) Tusk: w najbliższych dniach umowy dot. gazu z partnerami arabskimi. PAP, 13. 1. 2009.
(20) Malinowski, D.: Wolfgang F. Eschment, VNG: gazoport nie jest Polsce niezbędny. Wirtualny Nowy Przemysł, 21. 3. 2007.
http://www.wnp.pl/artykuly/wolfgang-f-eschment-vng-gazoport-nie-jest-polsce-niezbedny,3230_0_0_1_0.html
(21) Stasiak: Gazoport musi być priorytetem. PAP, 7. 1. 2009.
(22) Bliżej gazociągu Skanled. PAP, 15. 1. 2009.
(23) Porovn.: Byli premierzy: zerwanie kontraktu z Norwegami to błąd. Wirtualny Nowy Przemysł, 13. 1. 2009.
http://www.wnp.pl/drukuj/69474_1.html
V čase pred rokom 2002 sa predpokladalo, že Nórsko by zabezpečilo výstavbu celej infraštruktúry až k poľským hraniciam. Vtedajšia vláda Jerzyho Buzeka predpokladala, že prostredníctvom plynovodu z Nórska by Poľsko mohlo pokrývať jednu tretinu svojich potrieb zemného plynu.
(24) Obawiam się kryzysu, ale bardziej boję się ciepłej i krótkiej zimy. Gigawat Energia, nr. 12/2008, 2. 1. 2009.
http://www.gigawat.net.pl/article/articleview/1350/1/92/
(25) Łakoma, Agnieszka: Zacznijmy promować Jamał II. Rzeczpospolita, 9. 1. 2009.
(26) Łakoma, Agnieszka – Walewska, Danuta: Czas na trudne inwestycje. Rzeczpospolita, 9. 1. 2009.
(27) NWZ PGNiG zatwierdziło sprzedaż projektu Baltic Pipe firmie Gaz-System. Cire.pl – Centrum Informacji o Rynku Energii, 29. 1. 2009.
http://www.cire.pl/item,38118,1.html
(28) Aleksander Gudzowaty: Na celowniku służb. Wirtualny Nowy Przemysł, 21. 9. 2008.
http://www.wnp.pl/drukuj/4885_2.html
(29) Program Operacyjny – Infrastruktura Energetyczna. Wstępny projekt narodowego Planu Rozwoju 2007 – 2013. Warszawa, Ministerstvo Gospodarki i Pracy RP 2005.
http://www.funduszestrukturalne.gov.pl/informator/npr2/po/energia.pdf
(30) Waszkielewicz, Bernadeta: Droższy gaz, byle nie z Rosji. Rzeczpospolita, 17. 1. 2008.
(31) Jakie są rezerwy gazu w Europie? Wirtualny Nowy Przemysł, 8. 1. 2009.
http://gazownictwo.wnp.pl/jakie-sa-rezerwy-gazu-w-europie,69127_1_0_0.html
(32) Polskie Górnictwo Naftowe i Gazownictwo SA. Magazynowanie gazu.
http://www.pgnig.pl/pgnig/sd/oim/magazynowanie/?r,main,afterRedirect=true
(33) Tusk: unijne pieniądze przeznaczymy na budowę magazynów gazu i paliw. PAP, 13. 1. 2009.
(34) PMG we wstępnych fazach koncepcyjnych. Gazoprojekt, SA.
http://www.gazoprojekt.com.pl/wykonane_projekty/pmg.htm
(35) Bezpieczeństwo energetyczne priorytetem rządu Donalda Tuska. Kancelaria Prezesa Rady Ministrów, 13. 1. 2009.
http://www.kprm.gov.pl/s.php?id=2896
(36) Kublik, A.: Gazprom stawia ultimatum Polsce. Gazeta Wyborcza, 6. 2. 2009.