Notwithstanding many warnings and three sanctions implemented by the International Community on the Iranian Islamic Republic, one of the smallest former Soviet republics cooperates more and more intensively with the Islamic state. The favourability and suitability of close Christian-Islamic collaboration based on centenary cultural traditions consists particularly in the economic level, however, in the foreground are also far-reaching ambitions, namely a closer political cooperation. Objections against this cooperation have been raised by the Euroatlantic community which is in quest for a way how to steer small Armenia towards democracy.

Concise development
The roots of political, economic, historical and cultural relations between the Iranian Islamic Republic and Armenia date back to the times prior to the Islamisation of Iran and the Christianisation of Armenia. In view of a long-lasting Iranian influence on its neighbour, Armenia considered itself to be a part of the Great Iran. In spite of religious and ideological discrepancies, which made their presence felt in 301 when Armenia turned its back on the old Persian religion Zoroastrism and adopted officially Christianity as the state religion, both countries maintain very good and friendly links at present. Iran was among the first states to recognise officially the newly established republic in the territory of the former Soviet Union. Not only did Iran stand firmly by the republic during its origin, it was also a great help to Armenia while it faced many problems, like earthquake, war and energy crises.
Armenia has been developing an intensive cultural dialogue with the Islamic republic since it gained independence. It was the Islamic Revolution in 1979 which contributed to this condition and enabled despite strong Islamisation tendencies a peaceful cohabitation of the adherents of diverse religions among whose were also the Armenians respecting justice and legal regulations of Islamic faith. The Armenian Christians, who came here thank to Shah Abbas I, have been living in Iranian parts of the country since 17th century. Under the threat of the attacks of the Ottoman Empire, the Shah moved the capital of Persia from Tabriz to Esfahan, i.e. an army town. As he concluded that for the construction of such a majestic work, like his residential town was supposed to be, the Armenians well known for their craft in conquered towns were the best choice, he dislodged approximately 12,000 Armenian families to Esfahan and other central parts of Iran (1). In compensation for this he guaranteed them a tax relief as well as the right to profess freely the Christian faith. The rights in question are in the Shiitish-Muslim Iran respected to date, save for occasional exceptions. In this way all preconditions for the preservation of the identity and culture of all Armenians were created in the Islamic state and the local Armenian community (2) professes freely their Christian faith respecting at the same time the laws of Iran as an Islamic state.
There are no territorial disputes between Iran and Armenia, which are considered strategic allies in the region. The cooperation is still more intensive predominantly in the economic area making the US uneasy. The US warns that its intensification my stir up the paralysis of the effects of international sanctions imposed on Teheran in connection with its controversial nuclear program (3). In this context the Armenian Foreign Affairs Minister Vartan Oskanyan declared that the collaboration would continue and due to the transparency of bilateral relations, the US had no reason for concern (4). Despite generous US financial assistance, such a stance on America is explained by its close alliance with Ankara in terms of the North Atlantic Alliance. In its pursuit of the balancing of growing Turkish influence in the region of Caucasus, Armenia struggles to maintain good relations with Iran (5).

Gas pipeline as the rescuer from the vicious circle of poverty
The cooperation primarily in the field of energy security started to occupy the foreground when the second stage of the newly constructed gas pipeline was put into operation in February 2008. The pipeline is to supply the whole Armenia with Iranian gas for twenty years (6) and decrease thus its dependency on the Russian Federation. Iran is a country with the second largest earth gas reserves after Russia (7).
The contract on the construction of a 110 km long pipeline worth 33 million dollars (8) was signed between Iran and Armenia yet twelve years ago, however, the final agreement on electric power and natural gas supplies was concluded three years ago owing to disputes over the prices of supplied gas, payment guarantees as well as the place of its construction. As two thirds of the gas pipeline are situated in Iranian territory, the project was financed to a large extent by the Export Development Bank of Iran (EDBI). The gas pipeline was to be build in the course of 930 days, however, in view of its importance, the construction works were finished 280 days earlier. Although Russian Gazprom showed interest in the acquisition of the gas pipeline, it gave up the ambitious idea very soon and nowadays, it's been taking steps towards the building of a refinery for the processing of Iranian oil in Armenian territory.
Some analysts ascribed the general increase of Russian oil prices in 2006 also to the construction of this alternative gas pipeline apart from other things. Nevertheless, one has to take into account that Russia furnishes its clientele not exclusively with own gas. Owing to the presence of transit countries and deficiencies in gas supplying, Russia buys for advantageous prices earth gas from Central Asian countries, which push through gradually still higher fees for transition through their territories and for the supplies of their expensive raw material (10).
At first, according to the agreement Armenia will receive 3 million m³ of earth gas from Iran daily, which represents one third of the total capacity of the gas pipeline, i.e. double the amount it receives from Russia. In accordance with the 2005 agreement with the Armenian Government the price for 1,000 m³ of supplied Iranian gas should climb approximately to a sum of 85 dollars. It would be one third cheaper than the price offered by Russian provider which stepped up the prices of supplied gas from 55 to 110 dollars on 1st April, 2005. According to the agreement the doubled price of Russian gas should remain unchanged till 1st January, 2009. Anyway, we cannot forget that not just in the case of Russia but also as for Iran, the gas comes from Central Asian republics, mainly form Turkmenistan, which means that Iranian gas prices were developing parallel to these countries' greater demands (11). This year's deal between the Russian side and Turkmenistan fixed the charge for transported gas at USD 130/m³ in the first half of 2008 and USD 150/m³ in the second half (12). To put it simply, we cannot speak of firmly fixed gas price level in neither case.
The independent Armenian ethnologist T. Matosyan affirmed in the interview with Despite Borders dated 22nd June, 2007, that besides the restriction of the dependency on Russia, which had been the exclusive supplier of earth gas up to that time, Armenia managed to achieve the diversification of energy sources in this way. Nowadays, if something happens in Russia or Georgia through whose territories Armenian gas flows, Armenia possesses alternative sources. Nonetheless, one has to consider that Armenia is heavily indebted. It owes Russia which abides by the "property for debts" program. Owing to the mentioned debt, Russia appropriated 70 per cent of Armenian energy system and claims also the right to the control over the Iranian-Armenian gas pipeline for a period of 25 years (13).

Quid pro quo
It's awaited that a larger part of the supplied gas will be transformed into electricity and exported back to Iran through the planned third 230 kilovolt mains which is to be built by the Iranian company Sanir. According to the calculations made so far, the result should be 400 MW of electric power with a potential for its increase up to 900 MW (14). This means that Armenia will supply Iran with 3 kW of electric power for every cubic meter of the received earth gas (15). The deal is advantageous for Armenian side. In view of its barter character, Armenia won't lose much in the case of further growth of earth gas prices. Iran will keep on selling the easily acquired electric power from Armenia as well as Turkmenistan to surrounding countries, i.e. Afghanistan, Palestine and Iraq above all (150 MW per day).
On the basis of the agreement with Georgia of 28th October, 2006, Iran will supply electric power to Georgia in winter season, and vice versa Georgia will supply electric power to Iran in summer season. Armenia will be their middleman (16). In spite of Russian warnings, the lengthening of gas pipeline and the connection of Georgia to it is planned for the future. Thus Armenia will have the opportunity to become a transit country for Iranian and Turkmen gas supplies flowing through the Black Sea to European continent. The memorandum on understanding and mutual provision of electric power was signed with Georgia on 30th September, 2007.
Armenia is a minor electric power exporter and Iran is exactly its primary market. 40 per cent of export comes from the Metsamor nuclear power plant which was built in 1970's. In the aftermath of a devastating earthquake the power plant was deactivated and because of an energy crisis it was put into operation again in 1995. The given step faced criticism from US and EU side which demanded its instant shutdown since it didn't meet international safety standards. In May 2006, the current Government declared that the Metsamor power plant would be shut down by nine years. Besides Russia also Iran showed interest in investing in the construction of new power plants. That time Iran had been commissioned to conduct projects in the construction of two hydro power plants on the 235 km long river Araks which constitutes a natural border between Iran, Azerbaijan and Armenia.
Regional reinforcement of Armenian significance
In the first half of 2007, memorandums on the conduction of studies on the possibilities of building a railway connection between Iran and Armenia as well as the construction of an oil refinery in Armenian territory were signed. For a longer time, there has been a direct railway connection between Iran and the post-Soviet republic passing though Azerbaijani Nachichevan. In view of a conflict between Armenia and Azerbaijan, the railway isn't in operation. According to the estimates the construction of a new railway will cost around 1 billion dollars, however, economists find this investment useless because of the potential settlement of the Nagorno-Karabakh conflict (17).
The USD 2.5 billion refinery should be in possession of Russia and should serve for the processing of oil extracted in Tabriz. A certain part of the processed raw material should remain Armenian whereas a vast majority of the output is to return back to Iran. By means of the supplies of its own oil Iran could thus compete with neighbouring Azerbaijan which is considered the cradle of black gold. Anyway, no ground has been earmarked for the construction of the planned refinery yet (18).
Another strengthening of economic and military collaboration
In October 2007, Armenia invited Iranian President Mahmoud Ahmadinejad for a visit. During the planned two day visit, both sides attained to the signature of four memorandums on understanding which pertained to the establishment of consular offices in both countries' border areas, the cooperation in the area of banking, joint investments and the construction of a new wind power plant (19) with total output of 2 MW in Armenian territory (20). In the end, the top representatives issued a common statement in which they committed themselves to restore stability and peace in Iraq, Afghanistan and Palestine and prevent the proliferation of weapons of mass destruction. The statement also encompassed the respect for the rights of all states including Iran to a peaceful utilisation of nuclear technologies.
However, one has to point out that Iranian President made his visit shorter owing to undefined reasons and omitted one point from the program of the visit which the Armenians found crucial. It pertained to a visit and the growing of a tree near the memorial to the victims of World War I massacres which the Armenians perceived as genocide. Ahmadinejad avoided thus to take a stance on this matter and only confirmed Iranian negative attitude to any crimes against humanity. According to official information a sudden shift in president's program came up and therefore he had to return to his homeland quickly. Ahmadinejad's speculations can be interpreted also by his unwillingness to turn Turkey against Azerbaijan. Iran has been enjoying good business and friendly relations with them for a longer period.
Another memorandum dealing with the extension of military cooperation between Iran and Armenia was signed by defence ministers in November 2007 (21). The objective of a coordinated military policy would be the extension of bilateral constructive cooperation and the security of peace and stability in the region. Iran attributes a great importance to the solution to territorial conflicts in the region and that's why it welcomes warmly Armenian and Azerbaijani effort to settle scores by means of a constructive dialogue. Military cooperation hasn't got a concrete shape so far, however, the greatest emphasis will be laid on military logistics, i.e. military technology, foods and other things which Iran will furnish the Armenian army with.
The negotiations between the Governments of Armenia and Iran about the conclusion of a bilateral treaty on the establishment of a free trade zone have been under way for a longer period. Iran is well known for its policy and economic isolation. It this will be its opportunity to enter world markets. Nonetheless, the importance and legitimacy of such collaboration upheld also by the Armenian public consists also in the international isolation which Armenia found itself in after the demise of the former Soviet Union and the gaining of independence in 1991. After Azerbaijan and Turkey declared an economic blockade, Iran is after Georgia the second and simultaneously the last springboard for the sale of Armenian products in world markets and therefore the Armenian Government commenced the construction of the new Daravan – Cav – Shvanidzor – Meghri motorway leading to Iranian border. Investments in transport infrastructure should step up the turnover of foreign trade between neighbouring countries.
In order to strengthen mutual economic ties, Iranian side proposed to found an Iranian business centre which should push through the Iran's growing economic interests in this state.
The development of foreign trade between Armenia and Iran
According to the date from the National Statistical Service of the Armenian Republic foreign trade between Armenia and Iran is chronically passive and has been growing perpetually. At the beginning of the millennium, the overall turnover of Armenian foreign trade with Iran reached 120 million dollars accounting for a quarter of the total Armenian foreign trade. Iranian agricultural and chemical products were the main imported goods (22). One year later, Iran became the third biggest business partner of Armenia after Russia and Belgium. High import and export duties were the primary obstacle to the development of mutual trade. The representatives of business and industrial chambers of both states tried to overwhelm these barriers by cutting down on customs tariffs and providing allowances for investors (23). Duty on some commodities should sink to zero (24).
At present, both countries exchange approximately 600,000 tonnes of production per annum. In 2006, the value of Armenian trade with Iran amounted to around 200 million dollars, 160 million dollars out of which constituted imported Iranian products and the rest was Armenian products exported to Iran (25). Among the main Iranian export commodities are earth gas, amounting to approximately 25 per cent of its overall export, various metals (iron in particular) and construction materials (predominantly cement) and finally plastic products which represent half of the total Armenian import along with earth gas. Official statistic data refer to the increasing Iranian export share of the overall Armenian import structure. It grew from 5.48 per cent in 2003 to 6.05 per cent in 2006.
Iranian import structure is dominated by agricultural and food products, cigarettes, glass and glass products, various metals (aluminium in particular) and construction materials (mainly cement, sand and tuff) and last but not least also electric power supplies, which stand for more than 70 per cent of the overall Armenian export to Iran. Iran has nearly a three per cent share of the total Armenian export in the last years. The focal economic priority of both governments is to step up foreign trade as much as possible. According to some experts this will amount to a sum of almost one billion dollars in the following years.
Foreign trade between Armenia and Iran in the period from 2003 to 2006 (in thousands USD)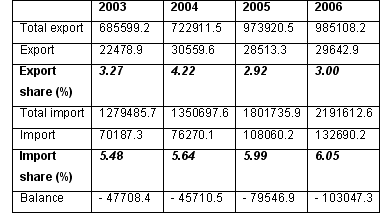 Source: National Statistical Service of the Armenian Republic http://www.armstat.am
The demise of the Soviet Union, within which mutual relations among Armenia and other Soviet republics were based on an optimum division of labour, was marked by a considerable economic decline which resulted predominantly in long-lasting crises. The newly established country had to face diverse challenges. For this sake it needed strong support that it found in a neighbouring country. At first, it struggled to restore former economic ties, but failing to do so it realised the need of the quest for new business partners and managed to re-orientate itself towards European Union markets. Nowadays, more than half of its foreign trade turnover is connected with the EU.
Nevertheless, it was its southern neighbour which played an irreplaceable and positive role during the birth of the new republic. The entire Armenian nation is thankful to this country. At the beginning, the aid was under way on a humanitarian basis. At present after a long period of political, economic and cultural dialogue, it's possible to notice more and more intensive struggle for a closer cooperation with the Iranian Islamic Republic, in the economic field in particular. Iran is thus a kind of blessing to the small Christian state, which suffered due to the ascendancy of Muslim states throughout its history and often found itself on the verge of demise. The role of a quite numerous Armenian community in Iran cannot be underrated. This community has been living in peace within Muslim environment and contributes to further development of political, economic and cultural dialogue between both neighbouring states. Time will tell whether western world agrees with Armenia continuing in the development of the dialogue with a state which has been included by the West in the list of axis of evil states.
Notes:

(2) After Russia (1.13 million) and France (500,000), Iran is inhabited by the third largest Armenian diaspora (400,000).

(3) Danielyan, E.: US concerned by Armenia's energy ties with Iran.21st June. 2007 http://www.eurasianet.org

(4) Yerevan to continue cooperation with Tehran: Armenian FM. 19th June, 2007. Islamic Republic News Agency (IRNA)

(5)Kirakosjan, A.: Náhorní Karabach jako hlavní aspekt určující zahraniční politiku Arménie. In: Mezinárodní politika, 6/2004. page 21.
(6)Iran's aggressive natural gas expansion plans. 23rd September, 2007. Tehran Times.

(7) The supplies of Russian natural gas are estimated at 44 trillion m3, whereas Iranian supplies at 30 trillions m3.

(8) Ahmadinejad to arrive in Armenia to inaugurate gas pipeline. 19th March. 2007. Islamic Republic News Agency (IRNA).

(9)Gazprom plans to buy the Iran-Armenia pipeline currently under construction, a deputy chairman of the Russian energy giant said Friday. 2nd July, 2006 In: http://www.today.az/news/business/27789.html

(10) Boldocká, S.: Gazpromu zdvihli ceny. On ešte nie. 13th March, 2008. Hospodárske noviny. http://hn.hnonline.sk/c3-23253640-k10000_detail-gazpromu-zdvihli-ceny-on-
este-nie
(11) Socor, V.: Gas from Iran to break Gazprom's monopoly in Armenia. 20th January, 2006. Eurasia Daily Monitor. http://www.jamestown.org/edm/article.php?article_id=2370687

(12) Boldocká, S.: Gazpromu zdvihli ceny. On ešte nie. 13th March, 2008. Hospodárske noviny. http://hn.hnonline.sk/c3-23253640-k10000_detail-gazpromu-zdvihli-ceny-on-
este-nie

(13) Halpin, T., Hughes, J.: Living with Big Brother: Armenia-Russia relations are based on language, culture and, lately, economics. In: http://www.armenianow.com. volume No. 9/281. 22nd February, 2008.

(14)Iran, Armenia to further promote energy and trade ties. 1st February, 2006. Tehran Times

(15) Iran ready to export gas to Armenia. 25th February, 2008. Islamic Republic News Agency (IRNA)
(16)Georgia will soon import electricity from Iran through Armenia. 28th October, 2008. Tehran Times
(17) New Armenia-Iran railway to cost $1b. 8th April, 2007. Tehran Times

(18) Gazprom interested in Russia-Armenia-Iran oil refinery. 11th October, 2007. Tehran Times

(19) Today in Armenia, there are four power plants in operation which were built by means of Iranian investments.
(20) Iran, Armenia ink 4 MoUs. 21st October, 2007. Islamic Republic News Agency (IRNA)

(21) Iran, Armenia ink MoU on defense cooperation. 8th November 2007. Islamic Republic News Agency (IRNA)
(22)
Volume of Iran-Armenia Trade, Very Low: Official.
17th July 2001
.
Tehran
Times

(23) Armenia-Iran Trade Reached $120m Last Year. 19th August, 2002. Tehran Times
(24)Iran, Armenia to cut trade tariffs. 5th September 2007. Tehran Times
(25) Important projects on Iran-Armenia agenda. 20th July, 2007. Islamic Republic News Agency (IRNA)